Making a difference, one laugh and one urinary tract at a time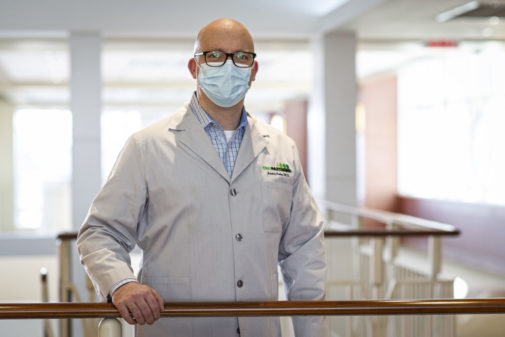 I decided to become a physician when I was a junior in high school. When you're 17 years old, you think a doctor goes into work, helps people and gets a decent paycheck. 
Since then, I've learned a lot about what practicing medicine really means. Being a physician isn't just a job — it's a vocation, a calling. To do it well, you have to love practicing medicine, yes, but you also need to feel comfortable bringing your whole self to work. 
A mentor of mine, Dr. Greg Barme, showed me not only how to be a great urologist, but also that you can make patients laugh and still be a serious doctor. As a result, the mood in my exam room is often very light during what could be really awkward and tense situations—I am a urologist, after all.  
But, as we all know, there are some interactions with our patients where humor isn't appropriate or appreciated. In those cases, my experience has taught me to be honest – even when the news is bad. It's my job to diagnose and to treat and to help guide my patients to select the best treatment option for their individual situation. 
Making a difference in the lives of my patients – big or small – is what drives me to keep practicing medicine. As a urologist, hearing a patient say that they wish they'd come to see me sooner is a great feeling.  
As physicians, sometimes we allow our work to consume us. It's easy to do, but I try to remember that my most important job is to be a great husband and father. I've been working hard to strike a successful balance between work and my family over the last few years, and recently, I believe I've found it.   
As we celebrate Doctor's Day, I hope that we can reflect on the reasons we love practicing medicine and on the patients we'll never forget. And I also hope that we'll thank those who make our practice possible – the people who love and support us.  
Dr. Justin Cohen is a urologist at Advocate Condell Medical Center.
March 30th is National #DoctorsDay. We're sharing stories from physicians at Advocate Aurora Health to recognize them for their passion and dedication to helping people live well. Have a doctor you want to recognize? Give them a shout out in the comments below!
Related Posts
Comments
About the Author