A broken bone, a fulfilled dream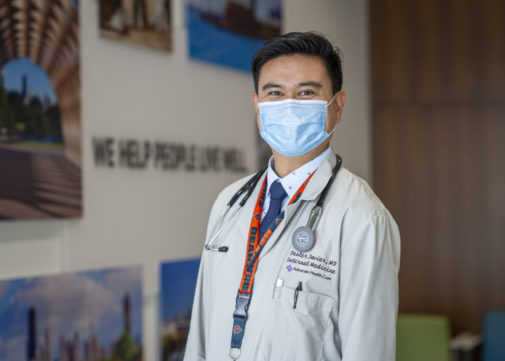 Sticks and stones may have broken my bones, but they also led me to a fulfilling career.
I first discovered my interest to pursue medicine when I broke my arm in the eighth grade. Initially, I chased a potential career as an orthopedic surgeon. However, later I realized that surgery wasn't for me.
Instead, I found my passion when I was building relationships with patients – and that I am more at home in the realm of primary care. I'm an internal medicine specialist at Advocate Illinois Masonic Medical Center in Chicago's Lakeview neighborhood. My true calling to medicine strengthened when I realized I spend most of my time dealing with preventable chronic disease like heart disease and obesity. These can be preventable conditions if we focus on healthy lifestyles, which is now the focus of my practice – lifestyle medicine.
And it is these same chronic diseases that put our patients at risk of severe consequences of COVID-19. So, here is how I see it: We must do our part and put our best foot forward to prevent an illness from even happening in the first place. That's why I got my COVID-19 vaccine. Anyone can get this virus, it has serious consequences, and the benefits of getting the vaccine outweigh the fears you may have. I encourage you to go and get yours when you can!
There is no better time than today to work on preventive measures to help limit chronic diseases and their effects.
Dr. Desler Javier is a doctor of internal medicine at Illinois Masonic Medical Center.
March 30th is National #DoctorsDay. We're sharing stories from physicians at Advocate Aurora Health to recognize them for their passion and dedication to helping people live well. Have a doctor you want to recognize? Give them a shout out in the comments below!
Related Posts
Comments
About the Author