Doctor remains optimistic: 'We'll get through this together'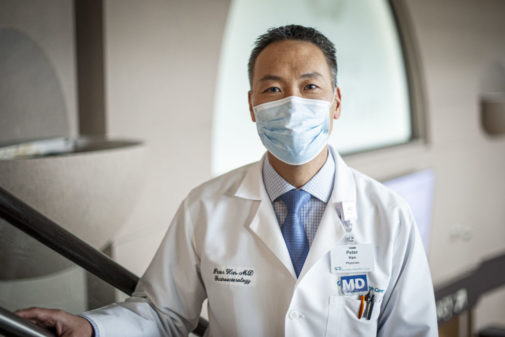 In your journey to wellness, Dr. Peter Han wants to be by your side. He views the doctor-patient relationship as a partnership.
"Being a doctor is a privilege and offers a chance to make a positive impact in someone's life," he says. "I am thankful that I have the chance to walk alongside someone and make a meaningful difference for them."
A gastroenterology specialist at Aurora Medical Center in Kenosha, WI, Dr. Han has practiced medicine for more than two decades.
While the COVID-19 pandemic has brought unexpected challenges to everyone's health and well-being , Dr. Han wants his patients to know they are not powerless – and they are not alone.
"I always encourage my patients to do their part to protect ourselves and our communities – wear masks, socially distance and get vaccinated when you're eligible!  Just like the rest of our health care journey, we'll get through this together," he says.
In his specialization, Dr. Han helps restore health to people with esophageal disorders such as reflux esophagitis, indigestion and esophageal ulcers through procedures including medication, surgery and swallowing therapy. Beyond his expert medical skills and knowledge, Dr. Han counsels his patients with advice to help them live well in all aspects of their lives.
"I encourage everyone to be thankful and take time to enjoy those special moments that we all have in life – a special trip, a cup of coffee, a talk with a close friend, a few moments to appreciate a beautiful sunset," he says. "It's my job to make sure your health concerns don't get in the way of these moments."
March 30th is National #DoctorsDay. We're sharing stories from physicians at Advocate Aurora Health to recognize them for their passion and dedication to helping people live well. Have a doctor you want to recognize? Give them a shout out in the comments below!
Related Posts
Comments
About the Author
Annette Guye-Kordus is a public affairs coordinator with Advocate Aurora Health.