My daughter's neurosurgeon operated on me, too
I first met my daughter's neurosurgeon when I was 12 years old. He was mine, too.
My childhood was active, but one day I began missing school and feeling sick. An MRI confirmed I needed to be admitted to the hospital, where I met Dr. John Ruge for the first time. I had no idea he'd still be in my life today.
I was diagnosed with a brain tumor the size of a tennis ball in my brain stem. Surgery and many rounds of radiation followed the tumor's removal. Over the years, I had many visits to Dr. Ruge and his team. I'm so grateful for them – I wouldn't be alive without them.
A second health scare later in life came just six weeks after the birth of my second baby, Payton Rose. A mammogram led to a triple negative breast cancer diagnosis, an extremely aggressive cancer. Treatment was a year and a half process that included 18 rounds of chemotherapy, a double mastectomy, 28 days of radiation, more surgeries and lots of recovering.
Now, five years post breast cancer, I look back at that time and know my daughters, Madison and Payton, were the reason I pushed through. Coming home to them after chemo and seeing their smiles made the fighting worth it.
In 2020, our family quarantined at our home in Montana and made the best of things by enjoying time outdoors. But our world stopped when Madison and Payton had a snow tubing accident one day, veering off a path and hitting a tree. Madison was crying, but Payton was completely stiff. I was terrified.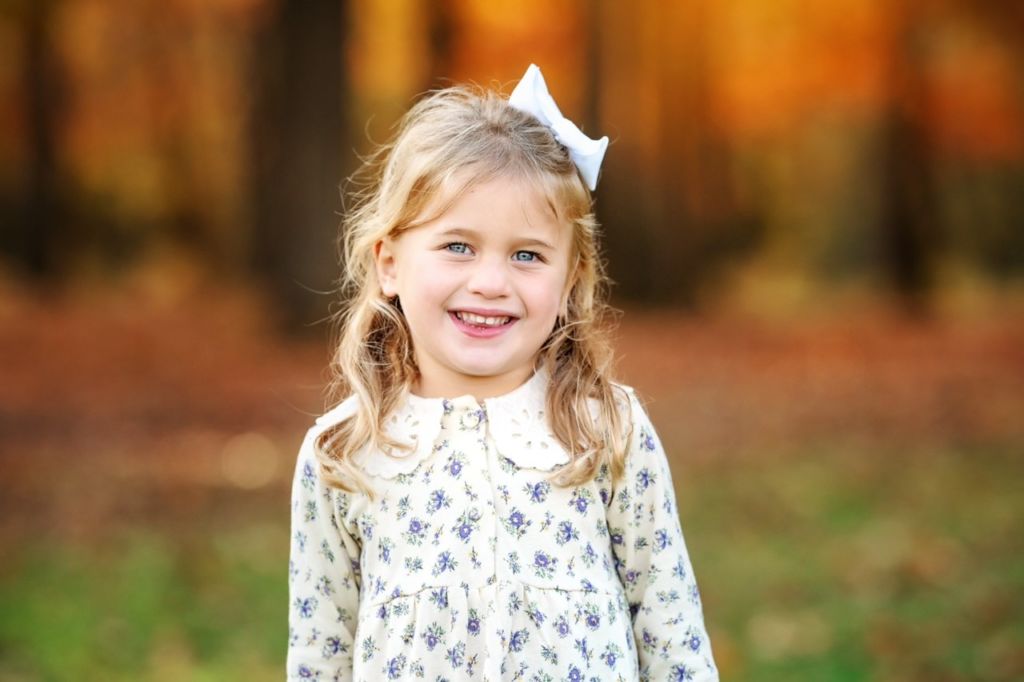 Once my husband Matt and I got them inside, Payton was out of it. She wasn't responding, only moaning. Her eyes were rolling in her head. We rushed her to the medical center, the scariest ride of our lives. We screamed her name the whole way to keep her alert. I didn't think she was going to make it.
Because of COVID protocols, only Matt got to go in with Payton. After a few scans we found out she had internal bleeding in her skull and needed to be airlifted to a children's hospital in Utah. Payton went in a helicopter and Matt, Madison and I had to drive to Salt Lake City.  The drive was the worst six hours of our lives. We didn't know what to even say to each other. Our baby was alone in a helicopter and we didn't know what was to come.
When we arrived that night, we learned that Payton was very chatty with all the ER nurses and docs. We had high hopes that the bleeding would stop overnight and we could head back to Big Sky. The next morning, after an early morning scan, we found out Payton's bleeding had spread and it needed to be controlled before it reached her brain. The doctor said Payton needed emergency surgery right away. After many hours of surgery and many tears, doctors discovered Payton's skull was fractured in multiple places, requiring 14 screws. Surgery was a success. We were told she would recover beautifully.
We were grateful! It was very hard for Madison and me, but we were her biggest cheerleaders because we wanted her to be released and be together as a family. The first time I was able to see Payton in the hospital garden, I didn't know what to think. I was grateful my baby was alive, but I was so scared about what the future held for us. After six days in the ICU with Matt by her side and many FaceTime calls, Payton was thriving. She passed all obstacles and challenges given to her and was released home to continue recovering.
We are coming up on a year since the accident. Keeping Payton from some of the fun things she loves to do has been a challenge, but she understands she had a big "ouchie" and needs to be safe. If she could, she'd call her doctor every week to let him know she's riding her bike with her helmet or skating.
We're so proud of Payton and all she's been through this past year. She's a strong, smart, funny, sweet little girl. It's amazing how children bounce back. That's something Dr. Ruge reminded me of over and over. "She will be your little girl just like you remember." She is. And so much more.
Related Posts
Comments
About the Author