Save the planet…with your diet?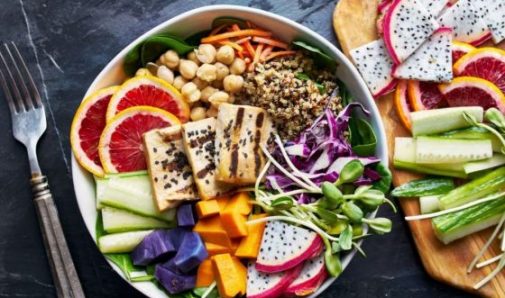 It's been argued that a plant-based diet is "better" — better for your health because it lowers the risk for diabetes, heart disease and obesity. But better for our planet, too?
In a study in the journal Nature, researchers contend that if no changes are made to the high consumption of red meat and processed foods, the environmental impact of our food system will nearly double over the next 30 years – "exceeding key planetary boundaries that define a safe operating space for humanity beyond which Earth's vital ecosystems could become unstable."
Unless we rein in the environmental impacts of our food system, dangerous levels of climate change will affect our health in numerous ways – from longer allergy seasons and decreased air quality, to deadly wildfires and extreme weather events, the study says.
The researchers also claim it will take nearly halving our food waste to reduce "greenhouse gas emissions, water used and pollutants produced."
That all sounds scary, right? Well, you can help.
The researchers note because the production of animal foods and products is responsible for nearly 80 percent of total agricultural emissions, one of the most powerful ways to make an impact is to reduce animal food intake.
"In the health care sustainability world, we use the mantra of 'less meat, better meat'," says Katie Wickman, sustainability manager at Advocate Aurora Health. "The idea is to lower meat intake overall, but when you do eat meat, make sure the animal was raised in a healthy, sustainable manner. For most people, even modest steps in this direction will not only help the environment, but their personal health, as well."
Sure, plants also require environmental inputs to grow, but research indicates that it is significantly less. They name legumes, such as peas, lentils and beans, as the most sustainable proteins that we should rely on.
The researchers explain that not only do these plants "require very small amounts of water to grow, they can grow in harsh, dry climates, they grow in poor nations, providing food security, and they act like a natural fertilizer," but they are also known to be high in B-group vitamins and an excellent source of antioxidants. Because of high levels of protein and fiber, legumes will also help you stay full for longer, which will help avoid snacking and overeating.
Not ready to ditch meat for good? Compromise. Try implementing just one meatless meal a day. As a flexitarian, or plant-based "beginner," you can slowly work your way to a predominantly plant-based diet but allow yourself flexibility. This diet includes majority fruits, vegetables and proteins, such as beans and nuts, along with modest amounts of poultry, fish and dairy, in addition to small amounts of red meat. So, this doesn't mean eliminating meat altogether, just swapping it for plant-based proteins when you can.
To learn more about protecting the future of health, visit Advocate Health Care's Sustainability & Wellness page.
Related Posts
Comments
About the Author
health enews staff is a group of experienced writers from our Advocate Aurora Health sites, which also includes freelance or intern writers.