Which allergy medicine is right for you?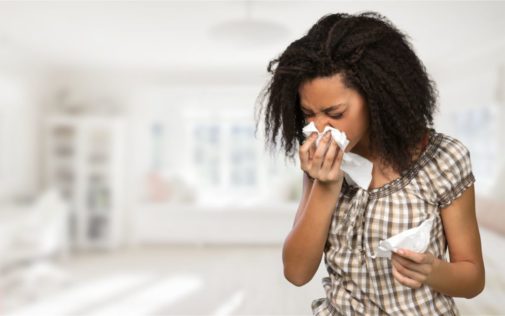 When that itchy eye, sneezing, throat-clearing feeling returns and you find yourself at the Walgreen's allergy medicine aisle, the number of options can stop you in your tracks. From antihistamines to nasal sprays to decongestants, it can be overwhelming to decide what to purchase, and most importantly, what will ease your symptoms.
But first, are you experiencing allergies? If so, you're not alone, as the Asthma and Allergy Foundation of America estimates that more than 50 million Americans have experienced various types of allergies each year. Dr. Maaria Syed from Advocate Medical Group in Aurora and Batavia, Illinois, shared some common allergy symptoms to look out for including itching, congestion and sneezing.
"Sometimes it's the eyes, roof of your mouth, or nose, that feels itchy," Syed said.
If you're suffering from seasonal allergies, or allergic rhinitis, she recommends starting with an over-the-counter antihistamine. Common brand-name antihistamines include Claritin, Zyrtec, Allegra and Xyzal.
But why so many choices? "Antihistamines are like iPhones. There are different generations or upgraded versions. An antihistamine like fexofenadine (Allegra), cetirizine (Zyrtec) or levocetirizine (Xyzal) are going to last longer and with less side effects (dry mouth, fatigue) as compared to their predecessors like Benadryl," Syed said.
Historically, so many Americans have needed these types of medications, so through the years refined and improved versions have hit the market, she shared.
Syed recommended monitoring for fatigue when you start a new antihistamine. "Pick a day when it would be safe to be sleepy – just in case," she said.
If you're taking an over-the-counter antihistamine and still experiencing symptoms, there are other options and steps you can take. First, contact your healthcare provider to see if any prescription medication or allergy testing is needing.
Nasal sprays, such as Flonase, are low-dose steroids so they are safe for long-term use, Syed said. She recommends speaking with a doctor before using, as it's helpful to know what you're allergic to and how long to take it. She also recommends contacting your healthcare provider if you need to use allergy eyedrops.
Decongestants like Afrin or Sudafed should be avoided unless they are under the direction of your healthcare provider, Syed said.
"These medications can help temporarily but typically should not be used for longer than a few days. They can have cardiac side effects so always check with your doctor ahead of time," she said.
If you suspect you have year-round allergies, look out for other less-obvious symptoms like snoring, dark under-eye circles and frequent sinus infections, which could be a sign that you're allergic to something you're consistent exposed to, Syed said. "Allergy testing can help to determine if allergies can be the underlying cause."
Finally, if you've exhausted your options, Syed said allergy shots or allergy immunotherapy are great options for patients who don't want to be on long-term medication or do not respond well to it. Note that these take years to complete but for most patients, they can work very well to resolve symptoms, Syed said.
Need to schedule a visit with an allergist or immunologist? They can help you determine what medication or treatment is right for you.  Look here if you live in Illinois. Look here if you live in Wisconsin.
Related Posts
Comments
About the Author
Anna Schapiro is a public affairs coordinator at Advocate Aurora Health. She has a background in public relations and communications and studied journalism at Northwestern University. When she's not working on internal communications for the organization, she enjoys cooking, reading and living in Chicago.