Sisterly love: A perfect match for bone marrow transplant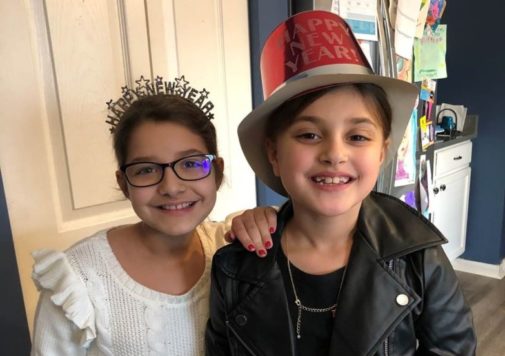 For the first time in four years, 9-year-old Anna Arrambide is "medication free".  It's a milestone that is a credit to the third grader's determination, as well as her baby sister's.
At age four, Anna was diagnosed with leukemia. "It was hard, but she soared through two-and-a-half years of treatment," says her mother, Jennifer.  "She was in remission. We were so happy with her progress."
But it was progress short-lived. Seven months later, Anna relapsed.
"My husband, Eric and I were devastated," says Jennifer. "Our cancer specialists at Advocate Children's Hospital told us the road ahead would be difficult.  Anna needed a bone marrow transplant."
Enter Anna's baby sister, Miabella. While a sibling match for a bone marrow transplant is rare, the five-year-old was a perfect match.
"On average, there is only a one in four chance that siblings will be a perfect match," says Dr. Jason Canner, Anna's pediatric hematologist/oncologist at Advocate Children's Medical Group. "Within leukemia, it is incredibly rewarding to discover that a patient has a sibling match, like Anna did."
Despite her tender age, Miabella was determined to do whatever it took to help Anna.
And so were Anna's pediatric cancer specialists. Thanks to their partnership with colleagues across the Chicagoland Children's Health Alliance, Anna and her family were quickly connected with stem cell transplant experts at University of Chicago Medicine Comer Children's Hospital.
"At first Anna was hesitant about leaving her care team at Advocate," says Jennifer. "But the transition and welcome at Comer were seamless."
"Caring for children like Anna, is a team sport", says Dr. Michele Nassin, a pediatric stem cell transplant physician at Comer Children's Hospital. "Our collaboration with the team at Advocate Children's ensures children are receiving the most appropriate level of care.  As physicians, we are learning from each other."
Anna and Mia underwent the procedure in March, two years ago.
"Anna kept asking throughout the transplant process, when she could go 'home' to Advocate," says her mom. "But at discharge, when Anna was being transitioned back to her team at Advocate, she asked the Comer team to go with her."
"Why can't we all just be together" Anna asked?
It's been two years since the two sisters endured the transplant and Anna is in remission. Both Anna's team at Advocate and Comer oversee her continued care.
"She's a normal 9-year-old who has been through hell," says Jennifer. "She's 100% the kid we had before the transplant.  We are so grateful."
"Anna is a little spitfire, "says Dr. Nassin.  "She's also very fashion forward and spunky.  It is awesome to see her doing so well."
"Knowing that Anna has fought through so much therapy, knocked it out of the park like she did, and now has such a positive outcome is one of the greatest feelings I can have as a pediatric oncologist, adds Dr. Canner. "Anna and her family are amazing."
Click here for more stories about doctors, nurses and others working on the front lines.
Related Posts
Comments
About the Author
Evonne Woloshyn, health enews contributor, is director of public affairs at Advocate Children's Hospital. Evonne began her career as an anchor and reporter in broadcast news. Over the past 20 years, she has worked in health care marketing in both Ohio and Illinois. Evonne loves to travel, spend time with family and is an avid Pittsburgh Steelers fan!