6 tips to grilling healthy meals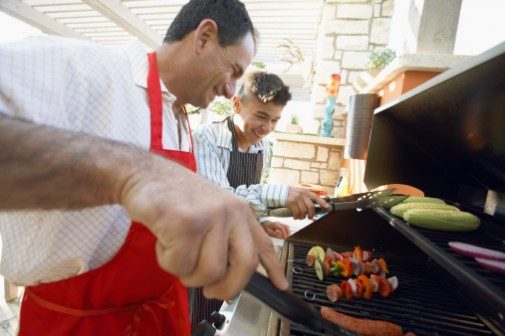 With summer officially here, cooking outdoors is likely on many people's schedules. With that comes a number of health concerns, including foodborne illnesses. So if you're planning on firing up the grill, here are some tips to ensure the food you're throwing on the flames is as safe and healthy as possible.
According to Barbara Melendi, senior dietitian at Advocate Illinois Masonic Medical Center in Chicago, there are six things you can do to make sure you get that grilled taste of summer while still staying healthy.
Marinate meats—Marinating your meats is not only tasty, it's good for your health, too. According to a study conducted at Kansas State University, marinating your steak actually reduces the amount of carcinogenic compounds, chemicals formed when meat is charred, by up to 87 percent. Homemade marinades with spices like rosemary and thyme are easy and allow you to control the amount of sodium and sugar you're getting. And these spices contain natural antioxidants, which boost your immune system and combat the cancer-causing carcinogens in the meat.
Lower the heat—Using a slow burn on low heat will avoid charring your grilled foods. Though many say the charring adds flavor, the burnt portions contain carcinogens and other compounds that could lead to cancer down the road. In this case, you want to avoid the burn. If you do happen to burn a bit around the edges, she advises trimming that portion before eating.
Keep it lean—Be sure to choose lean meats, like ground chuck hamburger, steaks with "loin" in the name and low-fat ground turkey breast. These will give you a healthier option and will still taste great coming off the grill.
Get the red out—Grilling doesn't mean you have to be eating red meats, which have been linked to heart disease and increased cancer risk. In fact, some studies have shown that eating large amounts of processed meat leads to an increased risk of colorectal and stomach cancers. Add color other than red to your grill by throwing on fish or vegetables like mushrooms, zucchini, tomatoes, onions and eggplant. Fruits like apples, pears and even bananas are also great on the grill.
Keep an eye on the sides—Just because it's called a "salad," doesn't mean it's healthy. Avoid the mayonnaise-based side dishes, like potato salad, macaroni salad and even coleslaw, which are tasty, but are usually high in fat and calories. Melendi advises opting for a fresh berry or garden salad, baked chips, cut up veggies with yogurt-based dips and vinaigrette dressings.
Choose your condiments wisely—People don't usually think about some of the things they throw on a burger that can add calories and fat. Instead of cheese, try a slice of avocado. And, as alternatives to ketchup and mayonnaise, she suggests trying salsa for extra veggies and spice, as well as mustard for healthy flavor. Whole wheat buns are a great option for getting extra fiber.
All in all, Melendi says to enjoy your summer grilling, but choose your foods carefully and try some new, healthy choices.
"Don't forget to clean your grill each time you use it," she says. "This will further reduce your exposure to cancer-causing carcinogens that build up on the grill over time and can contaminate your healthy food choices."
Related Posts
Comments
About the Author
health enews staff is a group of experienced writers from our Advocate Aurora Health sites, which also includes freelance or intern writers.