Pain during sex? Know when it's time to see your doctor.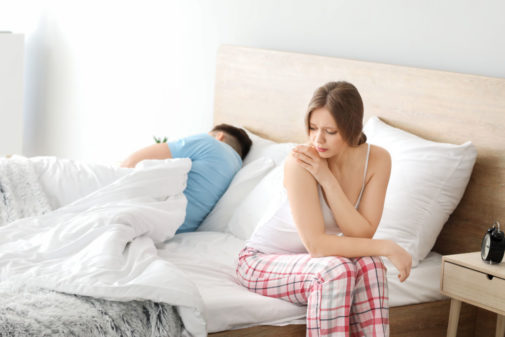 Sex generally should not hurt. But for many women, unwanted pain often accompanies their intimate encounters.
Nearly three out of four women experience pain during sex at some point in their lifetime, according to the American College of Obstetricians and Gynecologists. Some women experience pain only temporarily, sometimes because there isn't enough lubrication. Others, however, experience more chronic pain that could be due to an underlying – and often treatable – condition.
"Pain during intercourse is a very common problem for women during their fertile years and it can also be a problem for women during their menopausal years," said. Dr. Claudia Rodriguez, an OB/GYN at Advocate Sherman Hospital in Elgin, Ill. "There are many reasons for which pain could be happening, but it's not normal to have pain during intercourse, so if you're having any pain, you should see your doctor."
Some possible underlying conditions that cause painful sex include:
Endometriosis
Vaginismus
Pelvic floor dysfunction
Vaginitis
Fibroids
Uterine prolapse
Hormone changes such as perimenopause or menopause
STI's
With many of the potential underlying conditions, painful sex likely won't be your only symptom, and the pain might not be exclusive to the bedroom.
"You might have minor discomfort that you don't pay attention to, but it gets your attention when it happens during intercourse because now, you have to stop because of the pain or its uncomfortable if you continue," Dr. Rodriguez said. "Intercourse is part of normal life, so if you are unable to continue intercourse or unable to have a full relationship with your partner, it's something that's going to alter your quality of life."
During your visit, your doctor will get a thorough overview of your symptoms by asking questions about the pain such as when the pain started, what makes it worse and what makes it better. They will also perform a physical exam of your vagina and lower abdominal area.
Treatment could include antibiotics, hormonal treatment, physical therapy or a combination. In some cases, such as endometriosis that is not responding to medical therapy, surgery may be necessary.
"Pain during intercourse can be cured or controlled depending on what is causing it," Dr. Rodriguez said. "People should not feel apprehensive or ashamed to look for help. It's time to be checked. Contact your gynecologist so they can talk to you, examine you and help you get the right treatment."
Are you trying to find a doctor? Look here if you live in Illinois. Look here if you live in Wisconsin.
Related Posts
Comments
About the Author
Katie Dahlstrom, health enews contributor, is a public affairs coordinator with Advocate Aurora Health. A storyteller at her core, she is a former newspaper reporter and spent nearly five years working as a public relations professional for Chicago's commuter rail agency, Metra. Outside of work, she enjoys birding, photography and spending time with her husband and dog.