An easy surgery for an enlarged prostate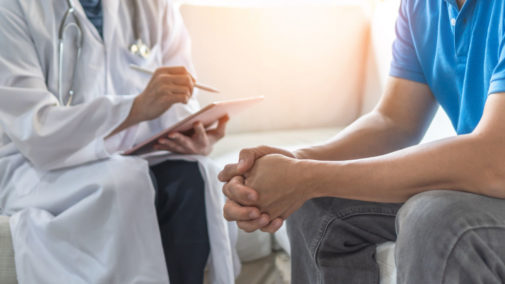 Michael Houle's doctor had been keeping an eye on his prostate for a few years. Medication helped a bit, but Houle still experienced symptoms, including pain and general discomfort.
After talking to his doctor, he knew that he couldn't put off a surgical option anymore. That's when he heard about Dr. Adam Kadlec and a minimally invasive surgical option called aquablation.
"He did a really thorough explanation of what the procedure was and how it worked. He showed me visuals and took the mystery out of it as much as I could understand," Houle said. "He was really attentive to what was going on in my head."
Dr. Kadlec is a minimally invasive urologist with Advocate Aurora Health in the Milwaukee area who specializes in aquablation. The procedure uses a robotically controlled, high-pressure water beam to remove tissue accurately.
"Aquablation can be a great, minimally-invasive option for an enlarged prostate," said Dr. Kadlec. "It can help reduce side effects."
Minimally invasive surgery options help patients recover more quickly and with fewer side effects than other options. For health concerns that can feel awkward to talk about, it's important to have a conversation with your doctor. They may know about treatment options that can help you get back to normal.
For Houle, aquablation was a quick, effective solution. Not long after he met with Dr. Kadlec, he had the surgery at Aurora Sinai Medical Center.
"It was much less impactful to me than I expected. I felt a little bit of discomfort for a day or so, but it was kind of a nonevent, which is a good thing," said Houle. "The recovery was really quick."
During Houle's surgery, Dr. Kadlec even found two bladder stones and was able to remove them, preventing Houle from future discomfort. Now, Houle is feeling much better.
"This is another reason why it's important to talk to your doctor about any symptoms you're experiencing," said Dr. Kadlec. "There are easy, effective solutions that can help you get back to normal."
Related Posts
Comments
About the Author
Ben Hoekstra is a public affairs coordinator with Advocate Aurora Health. He previously worked in marketing and PR for various Milwaukee nonprofits and received his master's degree in Corporate Communications from Marquette University. He enjoys the outdoors, cooking, and all things Milwaukee.