Can your smartwatch save your life?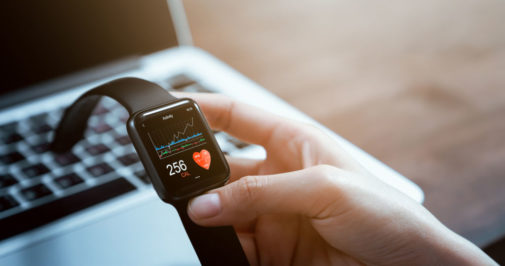 Nearly half of all Americans have some type of cardiovascular disease. But some people may not even be aware that their hearts are at risk.
Atrial fibrillation (a-fib) is one of the most common causes of irregular heartbeats, also referred to as arrhythmias. It occurs when the upper chambers of the heart are not coordinated with the lower chambers, potentially creating blood clots that can travel to other parts of the body, including the brain. This arrhythmia can increase your risk of cardiovascular disease, heart attacks and strokes, and it can be hard to detect because it may not cause any symptoms.
How can you find out if you have an irregular heartbeat without visiting your doctor? Most people check the time, the weather, and messages on their smartwatch, but this technology's ability to monitor heart rate and rhythm can also tell you when to seek medical attention, especially if you have a history of heart problems or are at risk of a stroke.
"They [smartwatches] have the ability to pick up arrhythmias and that is very important because asymptomatic arrhythmias can be life threatening," said Dr. Jeffery Freihage, a cardiologist at Advocate Good Shepherd Hospital.
A recent New York Times article, focused on an 87-year-old woman who used her smartwatch to reveal that she was suffering from a very low heart rate of 40 beats per minute. Because of the data available to her and her medical team, she got the surgery she needed and was able to make a full recovery.
Smartwatches aren't the only technological tool people can use to keep an eye on their heart health. Other applications, like Kardiamobile, can be used for those with a history of heart problems or abnormal heart rhythms.
"Kardiamobile gives a heart rhythm to your physician from your phone," Freihage explained. "These rhythm strips are the information that is being read from Kardiamobile and can be very helpful, especially when you are talking about a-fib."
Smartwatches or other heart monitoring technologies allow physicians to monitor patients remotely and help patients feel secure returning to the activities they love without visiting a hospital or doctor's office.
Freihage is quick to add that smartwatches and the health data they monitor are beneficial for anyone. Beyond their ability to recognize the early signs of heart attacks and strokes, smartwatches allow people to get a better holistic picture of their health – from step counts to setting and meeting activity goals. This understanding may help motivate people to move more, a key to achieving and maintaining heart health for all of us.
If you want to learn more about your heart health, take our heart risk assessment to understand your specific risk factors for cardiovascular disease, heart attack or stroke.
Related Posts
Comments
About the Author