When your home turned into a school and office, did your power bill spike?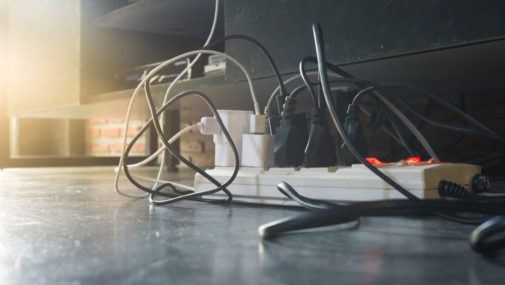 As people are spending more time in their homes, people are noticing their power bills starting to shoot up as quarantining families burn through more energy.
You might be running your heat more now that you're home all the time, for example, and the suite of technology needed to turn homes into offices and schools uses a bunch of power, too.
Travis Hawks, a sustainability specialist with Advocate Aurora Health, says increased power usage that hurts your wallet also hurts the Earth — and your health. Most electricity in the U.S. is generated from coal and oil fired power plants that release pollutants into the air that can aggravate asthma and cause lung cancer. And they of course contribute to climate change, which can cause extreme weather events and more frequent floods, among other things.
"There are many potential health effects of climate change," Hawks says.
So, what can you do to do your part and cut your power bill in the process?
Hawks says just giving a little thought to changing your behavior can make all the difference. You'll notice some easy opportunities to save energy at home, like turning off the lights when you're not using them and opening blinds to let more natural light in your home.
Much of a household's power use comes from heating and cooling. In the summer, just adjusting your thermostat up a couple degrees can make a substantial difference, as can turning off the air conditioning and opening the windows as soon as summer days cool down enough.
With your computer, turn it off when you're not using it. And even if you're just stepping away for a bit, turn off your monitor to save power.
Hawks says that bigger steps you could take is replacing your lights with LED bulbs that use less electricity, purchasing a smart thermostat, using a smart power strip, or replacing old windows to double pane windows and adding insulation to cut on your heating and cooling bills. And when buying new appliances, look for an ENERGY STAR label, which indicates an appliance is more efficient.
If you want to read more, you can find good information on the ENERGY STAR website.
Related Posts
Comments
About the Author
Mike Riopell, health enews contributor, is a media relations coordinator with Advocate Aurora Health. He previously worked as a reporter and editor covering politics and government for the Chicago Tribune, Daily Herald and Bloomington Pantagraph, among others. He enjoys bicycles, home repair, flannel shirts and being outside.