Is this causing your digestive issues?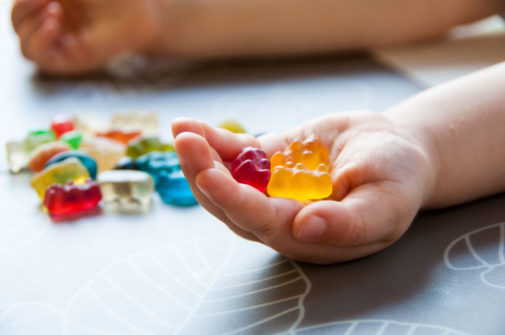 You know the awful feeling – bloating, gas, belly pain, even nausea. Is it something you ate?
It may be – and it may be something that's found in many of your favorite foods, including ones that seem healthy.
It may be fructose.
If your body can't digest and absorb all the fructose you eat, the fructose builds up in your intestines and causes nasty gut issues, known as fructose malabsorption. And if you have it, your digestive tract will let you know, giving you excess gas, bloating, abdominal pain, diarrhea, nausea, vomiting and possibly fatigue.
"There's a number of reasons why you may not be able to digest fructose properly," says Ashley McGuire, nurse practitioner specializing in gastroenterology in Mequon, WI. "It may be because of an imbalance of good and bad bacteria in your gut, or you're eating a lot of processed foods that your body can't handle all at once."
Fructose is a naturally occurring, simple sugar that your body uses in many biological processes. Some fruits and vegetables contain fructose in relatively low amounts that usually don't cause any issues.
But in high amounts it can wreak havoc. Fructose makes up about half of our common table sugar. (The other half is glucose.) It's also in other sweeteners that are commonly added to foods, such as high-fructose corn syrup, agave nectar and honey.
If you aren't able to digest high amounts of fructose, the main culprits to watch for are processed foods like candy, baked goods, sodas and energy drinks, fruit juices, sweetened yogurt, salad dressings and sauces, pizza, frozen and boxed dinners, breads, canned fruit, granola bars, cereal, snacks and ice cream.
It's thought that about 40% of people in the U.S. have fructose malabsorption. And that the high occurrence may be associated with our increased consumption of processed foods and added sweeteners over the past few decades.
Stress can contribute to the condition, as well as can other intestinal issues like irritable bowel syndrome (IBS).
"The good news is, if fructose is the root of your digestive problems, it can be managed," McGuire says. "Although you may have to sacrifice some of your favorite comfort foods from the store, finding other options can help relieve your intestinal woes and also improve your overall health."
Every person varies when it comes to gut issues. To help avoid or reduce your symptoms, McGuire gives these tips:
Keep a journal to track what you eat and any symptoms you have.
Schedule a visit with your doctor to discuss your symptoms.
Eliminate or eat less high-fructose foods like soda, baked goods and processed food. Replace with healthier options.

Consider adopting a more Mediterranean-type of diet.
Read labels and watch for ingredients to avoid such as high fructose corn syrup, agave nectar, fructose, honey and sorbitol. If added sugar is listed as one of its main ingredients, it's likely high in fructose.

Take care of you gut microflora and health.
If you're looking for healthier, make-at-home recipes and guided meditation to relieve stress, download the LiveWell app.
Related Posts
Comments
About the Author
Mary Arens, health enews contributor, is a senior content specialist at Advocate Aurora Health in Milwaukee. She has 20+ years of experience in communications plus a degree in microbiology. Outside of work, Mary makes healthy happen with hiking, yoga, gardening and walks with her dog, Chester.