Doctor urges her community to get the COVID-19 vaccine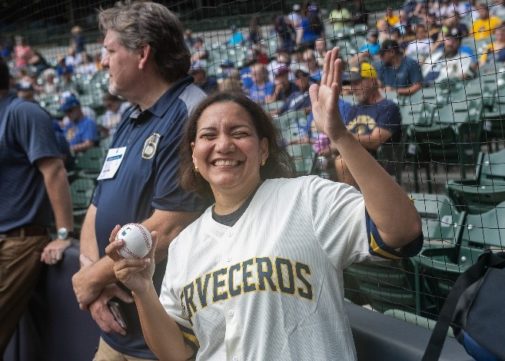 As a physician, Dr. Patricia Morales Brost feels it's her responsibility to advocate on behalf of the COVID-19 vaccine. And as a native of South America whose first language is Spanish, she feels compelled to spread her message to the Spanish-speaking community.
"It's part of my job as a physician," says Dr. Morales Brost. "I must confess when the pandemic came along, I felt like I was a soldier, ready to go to war."
Her strategy to convince people to get vaccinated centers on meeting them where they are, and she's produced a series of easy-to-understand videos to do just that.
"I think the key factor with the videos is to relay the information in a very simple language," she adds. "So that they feel identified, they can relate to the information, and that they don't feel threatened or intimidated by the information."
After 10 years as a family medicine physician at Aurora Health Center in Oshkosh, Wis., Dr. Morales Brost remains grateful.
"People actually consider you part of their family," says Dr. Morales Brost, who was born and raised in Colombia, South America, and has considered herself a proud Caribbean Wisconsinite since 2002. "They can relay things to me that probably they are not able to say to anybody else. That's a huge responsibility, one I do not take for granted."
Well known in her Wisconsin community, Dr. Morales Brost threw out the ceremonial first pitch at the 2021 Cerveceros Day, a Milwaukee Brewers game celebrating baseball's Hispanic heritage. She does her best to educate her patients, friends, family and the public on the efficacy of the COVID-19 vaccine, including through a series of Spanish-speaking videos posted on social media. The videos have been viewed by people in places as far away as Argentina, Spain and Peru.
Are you trying to find a doctor? Look here if you live in Illinois. Look here if you live in Wisconsin.
Related Posts
Comments
About the Author
Cearron Bagenda, health enews contributor, is a Public Affairs Coordinator with Advocate Aurora Health. She previously worked as a TV news reporter and fill-in anchor covering medical, political, feature and breaking news stories at CBS 58 in Milwaukee, WBAY-TV ABC in Green Bay and NBC Nebraska- Scottsbluff. Cearron enjoys spending time outside with her three dogs, biking, traveling and interior decorating.