Are those symptoms flu or COVID-19?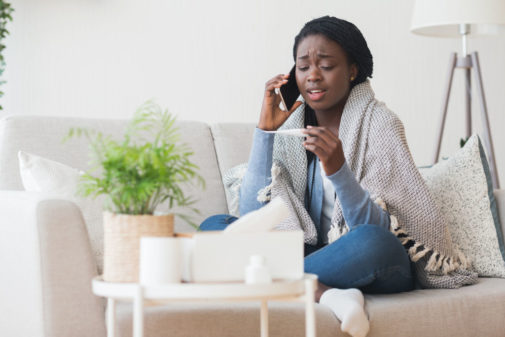 It's OK to admit it. At some point during the pandemic, you've probably coughed, sneezed or had a sore throat and asked to yourself, "do I have COVID-19?"
While those are just several of the virus' telltale symptoms, they are shared, of course, with those that come from the flu.
Influenza and COVID-19 trigger many of the same responses in our bodies. However, the symptoms they share vary in severity, as well as when they appear. Also, COVID-19 presents additional symptoms not typically found in influenza cases.
As COVID-19 continues, and flu season swings into high gear, Jill Lindmair-Snell, Multi-Site Director of Infection Prevention with Aurora Health Care, outlines the key similarities and differences between the viruses.
The key thing to remember is that if you have symptoms like these, you should call your doctor to find out what to do next.
For both flu and COVID-19, these symptoms are common: Fever greater than 100 degrees, cough, fatigue, muscle aches, sore throat, and congestion or runny nose. Nausea, vomiting and diarrhea is a symptom of COVID-19, and it's more common in children than adults for the flu. Headache, loss of taste or smell, and shortness of breath are COVID-19 symptoms that aren't typical for flu.
Influenza can cause mild to severe illness and symptoms begin two days after being exposed to an infected person but can range from one to four days.
COVID-19 can also cause mild to severe illness, but those with underlying medical conditions have a greater risk of developing serious complications. COVID-19 symptoms typically appear five days after being infected but can occur anywhere between 2-14 days after exposure.
If you or somebody you care for has these symptoms, please contact your primary care provider. For more information, check out our COVID-19 Resource Center.
Related Posts
Comments
About the Author
Matt Queen, health enews contributor, is a communication coordinator at Aurora Health Care in Milwaukee. He is a former TV sports anchor and journalist with extensive public relations experience across the health care spectrum. Outside of work, Matt enjoys watching sports (of course), cooking, gardening, golfing and spending time with his wife and two young children.