This ethnic group's been disproportionately affected by COVID-19 during pregnancy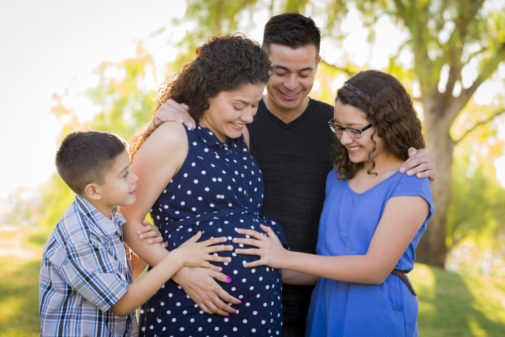 Dr. Marie Cabiya knows her Hispanic patients tend to rely heavily on the opinions of their family, friends and community when making health decisions. That's why she uses her influence as a Hispanic physician to advocate for the safety and efficacy of the COVID-19 vaccine – especially among the pregnant women she treats as an OB-GYN at Advocate Illinois Masonic Medical Center in Chicago.
"I encourage them to make a joint decision with information that is scientifically sound," Dr. Cabiya said. "Pregnant women are getting infected with COVID not just more often but more severely because of changes that happen in the immune system during pregnancy."
In fact, pregnant women who are Hispanic or Black are disproportionately affected by COVID-19 infection during pregnancy, a CDC study found. Leading health experts including the CDC, American College of Obstetricians and Gynecologists and the Society for Maternal Fetal Medicine all recommend pregnant women get vaccinated.
The emergence of the delta variant is another reason to get vaccinated, said Dr. Cabiya, who calls the strain "a game changer" because of how highly infectious it is.
About 40% of Dr.  Cabiya's patients are Hispanic. As a Puerto Rican native of Cuban and Puerto Rican descent, Dr. Cabiya appreciates being able to relate to her patients on a cultural and personal level. Communicating in a patient's native language breaks down barriers and enhances the physician-patient relationship, numerous studies show.
For Dr. Cabiya, Hispanic Heritage Month – observed Sept. 15-Oct. 15 – is an opportunity to celebrate the cultural, geographic and language diversity inherent among the many groups classified under the Hispanic umbrella.
"Hispanic is more diverse than a single word would lead you to believe," she said. "It makes me think about what we treasure about our ethnicity – specifically the importance of relationships with extended family members being part of the nuclear family and different generations being together to maintain the culture. It's the sense of community that is so special to me."
Are you trying to find a doctor? Look here if you live in Illinois. Look here if you live in Wisconsin.
Related Posts
Comments
About the Author
Lisa Parro, health enews contributor, is manager of content strategy for Advocate Aurora Health. A former journalist, Lisa has been in health care public relations since 2008 and has a master's degree in journalism from Northwestern University. She and her family live in Chicago's western suburbs.