Breaking down barriers: How Lutheran General's culture and community liaison supports patients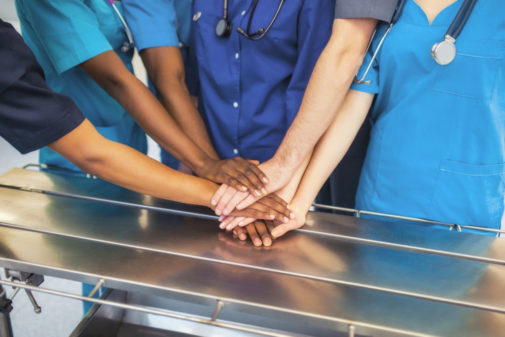 Sandra Saldaña has watched families struggle with complex health care language and concepts during conferences on palliative and comfort care. 
She has seen parents grapple over how to express concerns regarding their child's cancer diagnosis because of cultural differences and confusion of the treatment process. 
And in her own family, she has witnessed loved ones suffer from a lack of health literacy and a hesitation to ask questions due to the values and social norms of their Hispanic heritage. 
That's why, through her work at Advocate Lutheran General Hospital in Park Ridge, Saldaña has made it her mission to break down language and cultural barriers, and ensure all patients — regardless of race, dialect, ethnicity or culture — have the resources they need to make informed health decisions. 
"When somebody walks through our door, I want them to feel welcome. I want them to feel respected," she said. "Every individual deserves to receive equitable care and know what to do to advocate for themselves." 
Saldaña has been a Lutheran General team member for more than a decade, the last seven months of which she has served as the cultural and community liaison. In her role, she develops relationships with residents, businesses and community leaders; promotes access to and an understanding of health care services; and helps current patients achieve best outcomes. 
Among her primary responsibilities is assisting non- or limited- English-speaking patients as they navigate hospital services, she said, noting Lutheran General serves patients speaking about 18 different languages at any given time. She also promotes linguistically specific and culturally sensitive education to support effective communication and help people live well. 
"I've seen many people struggle to receive care because their cultural background often precludes them from knowing what to do or how to access care," Saldaña said. "It's amazing how people's lives can turn around if they have the right tools." 
In Hispanic culture, for example, it's a common sign of respect to push aside conversations about medical issues and shy away from asking physicians questions, she said. But doing so can lead to delayed care, miscommunication and adverse outcomes that could have been avoided. 
That's where Saldaña's community outreach efforts come into play. She coordinates presentations about health literacy, screenings and other topics; partners with Lutheran General's 11 community chambers of commerce and local leaders; and shares Advocate Aurora's commitment to inclusion for all. She even created a community inbox to field email inquiries from patients and residents seeking resources. 
The role perfectly blends her skills and background as a forensic linguist, educator, patient navigator and former administrator, Saldaña said. It draws on her life experiences teaching Spanish and English as a second language, living in several Spanish-speaking countries, and growing up and raising a family as a member of the Hispanic culture. 
"When you provide care, if you don't know what a patient's values, beliefs and customs are, it can be much more difficult to have meaningful communication and can impact treatment and care compliance. Meeting patients where they are at goes a very long way for patient engagement and building trust," Saldaña said.  
"I want to ensure our community is listened to, that they know what to ask, how to ask, and that their care is received in a culturally and linguistically appropriate way." 
Related Posts
Comments
About the Author
Lauren Rohr is a public affairs coordinator with Advocate Aurora Health. She studied journalism at the University of Illinois at Urbana-Champaign and spent the last several years working as a news reporter covering public health, local government, politics, education and all facets of life in the Chicago suburbs. In her free time, she enjoys reading, baking, staying active and cheering on her favorite sports teams, especially the Chicago Blackhawks and the Fighting Illini.