Adult Down Syndrome Center offers support for the whole family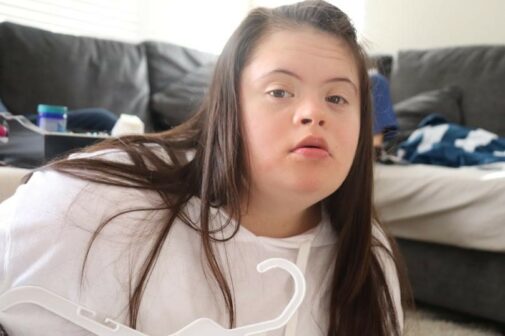 Ismael Olaez was feeling lost.
His daughter Ashley always enjoyed attending school and had relatively positive experiences with her teachers and classmates. But after she transitioned into high school in 2018, her parents noticed a shift in her mood and behavior, aligning with an increase in accidents and out-of-character aggression.
After consulting with a psychiatrist and her longtime pediatrician, the Olaez family of Round Lake realized that Ashley, who has Down syndrome, wasn't receiving the appropriate services or level of care needed to thrive in her school environment. One mismanaged incident in particular escalated to the point of trauma for Ashley, who was suddenly uncomfortable around strangers and didn't want to leave her room.
"We knew something was going wrong," Olaez said. "She was always on high alert, as if something bad was going to happen."
After searching for months, Olaez finally found the support he was looking for at the Advocate Medical Group Adult Down Syndrome Center. His daughter, now 17, has never seemed happier.
The multidisciplinary team at the Park Ridge clinic helps adolescents 12 and older and adults with Down syndrome by providing comprehensive, holistic, community-based care and services. The Center — which opened nearly 30 years ago and has served thousands of patients since — provides medical care, nutritional counseling, therapy and community advocacy. It also puts on programs and social activities encouraging patients to prioritize their health.
Visiting the clinic for the last two years has made all the difference in the world for Ashley, who is nonverbal, her father said. Even during the stay-at-home order at the height of the COVID-19 pandemic, her team found a way to connect and engage with her in a virtual setting.
Ashley's occupational therapist in particular took the time to build a relationship with her, understand her needs and develop an effective approach to helping her. Not only does Katie Frank, an occupational therapist, provide sensory regulation and other therapy services but she goes above and beyond to offer support to the entire family, such as explaining medical terms and behaviors, or assisting as they navigate meetings with their school district, Olaez said.
"In a way, it's been therapy for me, too," Olaez said. "She has the experience and knows how to advocate for patients with Down syndrome. It may be her job, but you can tell she has a passion for it."
Within months, Ashley's mood had improved significantly, her father said, and her accidents and adverse reactions were few and far between. She takes frequent walks in the forest preserve – a major mental and physical benefit – and she looks forward to her time at the Adult Down Syndrome Center every week.
"Ashley is the friendly, smiley person she always had been," Olaez said. "Having a child with Down syndrome has taught me to always look for the people who are willing to support her."
October is Down Syndrome Awareness Month. To learn more about the resources and services provided by the Adult Down Syndrome Center, visit adscresources.advocatehealth.com.
Related Posts
Comments
About the Author
Lauren Rohr is a public affairs coordinator with Advocate Health Care and Aurora Health Care. She studied journalism at the University of Illinois at Urbana-Champaign and spent the last several years working as a news reporter covering public health, local government, politics, education and all facets of life in the Chicago suburbs. In her free time, she enjoys reading, baking, staying active and cheering on her favorite sports teams, especially the Chicago Blackhawks and the Fighting Illini.