Is now the right time to get a mammogram?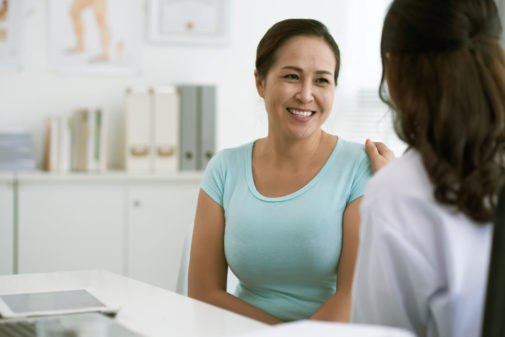 Preventive screenings for breast cancer decreased during the height of the COVID-19 pandemic, according to a recent study. But Dr. Louis Manquen, a diagnostic radiologist at Advocate Condell Medical Center, wants women to know they shouldn't delay their exam because additional measures have been put in place to keep everyone safe at hospitals and outpatient imaging centers.
Dr. Manquen recently answered common questions heard during Breast Cancer Awareness Month, observed in October. You can read a first batch of questions and answers here.
Q: When should I begin screening mammography? And how often should I get it?
A: You should always talk to your doctor about when you should start getting screened. According to the U.S. Preventive Services Task Force, women should begin getting yearly mammograms starting at age 50, but those between ages 40 – 49 have the option of regular screening mammograms. I strongly encourage women to undergo their first screening at 40 and continue yearly because we see breast cancer in all age groups and there are well established survival benefits of screening mammography in women in their 40s.
Q: I have a strong family history of breast cancer. When should I start screening mammography? Are there any other steps I should take to improve cancer detection?
A: If you believe you're at a higher risk for developing breast cancer, ask your primary care physician for a referral to a center specializing in genetic counseling or to a physician such as a breast surgeon or oncologist who offers genetic counseling. A strong of family history, especially breast cancer in a first degree relative before the age of 50, a previous high-risk biopsy result or prior chest radiation therapy before age 30 are all reasons to suspect you may be at an increased risk. If a risk assessment is performed and shows a lifetime risk greater than 20-25 percent, then adding a screening breast MRI with mammography is recommended. If genetic testing finds a disease-causing mutation, a screening mammography at 30 and MRI early at 25 could be recommended.
Q: I have breast pain. Should I be concerned?
A: Breast pain is very common. Non- focal, diffuse breast pain (meaning you can't place your finger on where the pain is coming from) in both breasts is not associated with breast cancer; it's most often related to cyclical or hormonal changes. If you're experiencing focal breast pain (that is, you're able to pinpoint it), then schedule a visit with your primary care doctor. Even in women with focal breast pain, the chance of a cancer at that spot is extremely low (0.3-0.4%).
More questions? Learn what to expect when you're expecting a mammogram during the pandemic. Take a breast health assessment to learn more about your risk of developing breast cancer.
Related Posts
Comments
About the Author
Lisa Parro, health enews contributor, is a content manager for Advocate Health Care and Aurora Health Care. A former journalist, Lisa has been in health care public relations since 2008 and has a master's degree in journalism from Northwestern University. She and her family live in Chicago's western suburbs.