Should pregnant women get the flu vaccine?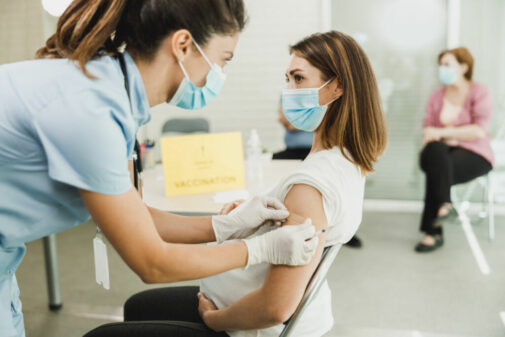 Getting the flu during pregnancy is dangerous. Experts say pregnant women face a greater risk of complications including a higher chance of pneumonia, hospitalization, ICU admission and adverse perinatal and neonatal outcomes. But why does pregnancy increase your risk?
"During pregnancy your immune system is weakened because you don't want your body to be fighting the growth of the fetus," said Dr. Marie Forgie, obstetrician and gynecologist at Aurora Sinai Medical Center. "If you are pregnant, it is best to get the vaccine early in the flu season, as soon as the vaccine is available."
The flu vaccine has been used during pregnancy for many years for millions of pregnant people and has been found to be very safe for both them and their baby. Getting the flu vaccine can have significant benefits for both the mother and child.
"The flu vaccine actually does 'double duty' by protecting both you and your baby. When you get a flu shot during pregnancy, the protective antibodies made in your body are transferred to your baby and will protect your baby against the flu until he or she can get the vaccine at 6 months of age," said Dr. Forgie.
Pregnant women should get the flu shot rather than the nasal mist, as the flu shot contains a form of the flu virus that is inactivated and cannot cause disease. If you're hesitant or have questions about something you heard or read about the flu vaccine, it's always a good idea to bring it up with your doctor.
"If you do have concerns or read something on the internet, ask your provider," said Dr. Forgie. "We're here to provide information for you in your pregnancy and we're going to take care of you."
Concern that you're doing what's right for your baby is a good thing, and your doctor is here to help. There have been many studies of the flu vaccine over years, so doctors have a lot of data and information to share that can help address any questions you have. The flu vaccine hasn't been shown to increase rates of miscarriage, birth defects or autism.
"Another concern that I've heard is about thimerosal, a mercury-containing preservative used in multidose vials of the influenza vaccine," said Dr. Forgie. "There is no scientific evidence that thimerosal-containing vaccines cause health or developmental problems, such as autism, in children born to women who received those vaccines while pregnant. There are thimerosal-free formulations of the influenza vaccine available, but the CDC doesn't indicate a preference for the thimerosal-free formulation for pregnant women. You can get either one."
Getting the flu vaccine while pregnant can help protect you and your baby. If you have questions, talk to your doctor.
Now is the perfect time to make an appointment with a primary care physician. Whether you live in Illinois or Wisconsin, it's easy to find a doctor near you. 
Related Posts
Comments
About the Author
Ben Hoekstra is a public affairs coordinator with Advocate Health Care and Aurora Health Care. He previously worked in marketing and PR for various Milwaukee nonprofits and received his master's degree in Corporate Communications from Marquette University. He enjoys the outdoors, cooking, and all things Milwaukee.