VIDEO: Pediatric experts answer questions about the COVID-19 vaccine for kids 5-11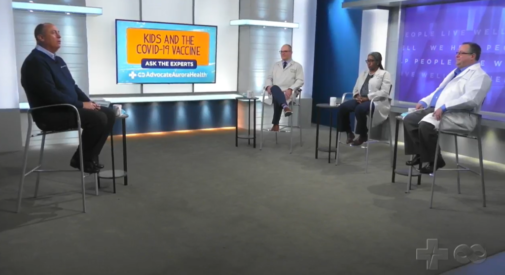 After the Centers for Disease Control and Prevention approved the Pfizer vaccine for kids 5-11, parents may be thinking about whether they want their own child to get the vaccine.
"We're absolutely thrilled by the recent announcement last week for that age range," said Dr. Frank Belmonte, chief medical officer at Advocate Children's Hospital. "We've now vaccinated over a billion people on the planet and we have not seen serious side effects from this vaccine."
Children 5-11 still receive two vaccines, but the dose is a third of an adult size. The doses are still administered three weeks apart. Most children are spared the severe symptoms of COVID, but not all.
"That 'not all' is a real number," said Dr. Kevin Dahlman, medical director of Advocate Children's Hospital. "We do see hospitalizations in kids adversely affected by the COVID illness and furthermore, there are a couple other considerations and that is: we want to keep the kids in school."
Dahlman noted that remote learning had devastating consequences on children last year and vaccination allows children to bypass quarantines in the event of close contact.
Getting children vaccinated is also important for those looking to gather during the holidays.
"Once we're indoors, there's higher risk of transmitting because most people will be unmasked, so we want to make sure you're vaccinated," said Dr. Markeita Moore, a pediatrician with Advocate Children's Hospital during a recent online event.
Dr. Moore, Dr. Belmonte and Dr. Dahlman made these comments during a Facebook Live event hosted by Advocate Aurora health CEO Jim Skogsbergh on Wednesday, and you can watch the full video below.
Watch it here:
Related Posts
Comments
About the Author