Smoking has risks beyond lung cancer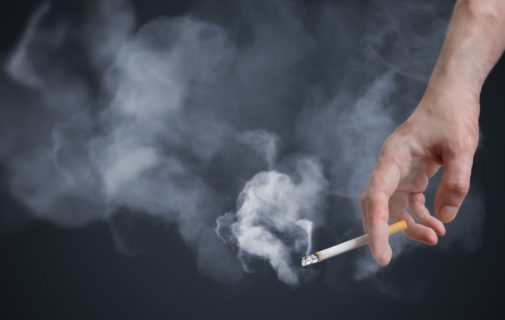 Smoking is well known for causing lung cancer, which is a leading cause of cancer deaths in both men and women. However, cigarette smoking contributes to many diseases beyond lung cancer:
Smoking damages your heart and blood vessels, increasing your risk of heart disease and stroke
COPD, or chronic obstructive pulmonary disease, includes both chronic bronchitis and emphysema. COPD risk increases the more and longer you smoke. It gets worse over time and has no cure.
Smoking also causes other cancers, including esophageal, laryngeal, throat, tongue, tonsils, pancreas, kidney and colon.
It can affect reproductive health, leading to infertility and erectile dysfunction.
Contributes to an increased risk of Type 2 diabetes
Smoking also increases risk for tuberculosis, certain eye diseases, and problems of the immune system, including rheumatoid arthritis
Studies have shown that screening those at high risk with low dose lung scans before symptoms are present can find lung cancer early when it is easier to treat and more likely to be cured. Lung cancer screening might also show if you have other conditions or diseases that need to be treated.
You should talk to your doctor about when screening is right for you. Annual screening often is recommended for individuals whose age and smoking history place them at higher risk for lung cancer. This means they have at least a 30-pack year (equivalent to one pack a day for 30 years) smoking history and currently smoke or quit within 15 years. Most commercial insurances cover individuals aged 55–80, while Medicare covers those aged 55–77.
Lung cancer screening is not a substitute for quitting smoking.  The most important thing anyone can do to reduce their risk of lung cancer is not smoke or use any form of tobacco. Although not all lung cancers are caused by smoking, about 80% of all lung cancer deaths are thought to result from smoking. Quitting can also decrease heart and vascular risk, strokes, and respiratory diseases.
Quitting is difficult. Nicotine is a very strong addiction. However, there are significant benefits to quitting. Some health benefits begin almost immediately. Every week, month, and year without tobacco further improves your health.
Learn more about our Lung Cancer Screening Program in Illinois and Wisconsin.
Laurie Dlouhy is a registered nurse and lung cancer screening coordinator with Advocate Aurora Health.
Related Posts
Comments
About the Author
Laurie Dlouhy, health enews contributor, is an RN lung cancer screening coordinator with Advocate Aurora Health with 30+ years of nursing experience. She started working in thoracic surgery in 2009, specializing in lung cancer treatment. In 2018 she transitioned to the lung cancer screening program with a goal of helping patients identify lung cancer at earlier more treatable stages. She enjoys biking, hiking, kayaking and in normal times going to Brewers games.