Are you less heavy than you think?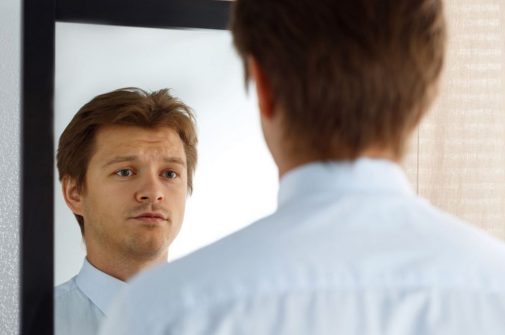 Losing a significant amount of weight often translates to a healthier lifestyle, new strength and more energy. Despite a lower number on the scale, some people have a hard time recognizing this positive physical transformation.
Instead of seeing a fit body in the mirror, they perceive themselves as still being very heavy. This phenomenon is called "phantom fat syndrome," or body dysmorphic disorder.
Body dysmorphic disorder (BDD) is a serious illness in which a person is overly worried about their appearance or about minor or imaginary physical flaws, according to the U.S. Department of Health and Human Services.
Dr. Allen Mikhail, a bariatric surgeon at Advocate Christ Medical Center in Oak Lawn, Ill. and Advocate Good Samaritan Hospital in Downers Grove, Ill., says major and rapid weight loss is a significant life change, similar to getting married, having a baby or starting a new job. All of these changes take some time to adjust to.
"While many people are thrilled when they have lost weight, not everyone is as happy as they thought they would be when they've hit their goal," he says. "Either their body may not look exactly how they envisioned it would, or they have a blind spot as to how their new body actually looks. While they may see a more fit person in the mirror, their mind perceives it as the heavier version. It's a cognitive shift, and it can take time for our mind to catch up with the changes to our physical body."
Dr. Mikhail suggests the following tips to positively accept your new body:
Reflect on your goals and be proud of your accomplishments
Look at photos from your weight-loss journey
View yourself as a whole person (talents and interests), not just someone who lost weight
Keep a gratitude journal to focus on all the positives in your life
Try a new activity that you always wanted to try but didn't think you could do before
Dress for your new body. Hire a stylist or ask a friend to help you find clothing that makes you feel good.
"After some time, you should adjust to your new positive body image," he says.
However, if you are still feeling overwhelmed by negative thoughts, neglecting responsibilities or withdrawing from loved ones, Dr. Mikhail suggests talking to a counselor for support on body image distortion or negative thinking patterns. A counselor can help retrain your brain from the negative image that's been embedded in your mind for years.
"Remember, you deserve and have a right to happiness and contentment regardless of your weight or size of your jeans," says Dr. Mikhail.
Learn more about what's a healthy weight for you. Take a free online assessment.
Related Posts
Comments
About the Author
Johnna Kelly, healthe news contributor, is a manager of public affairs and marketing at Advocate Christ Medical Center in Oak Lawn. She is a former newspaper reporter and spent nearly 10 years as a public relations professional working for state and county government. During her time as a communications staffer for the Illinois General Assembly, she was integral in drafting and passing legislation creating Andrea's Law, the nation's first murderer registry. In her spare time, she volunteers at a local homeless shelter, enjoys traveling, photography and watching the Chicago Bulls.