5 tips to promote a positive body image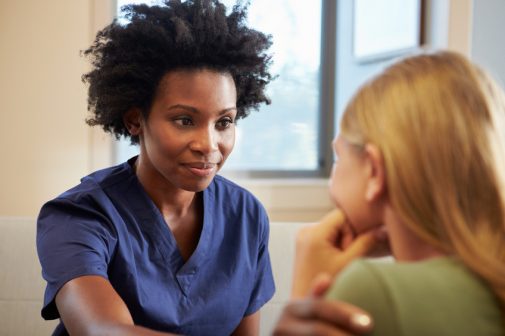 Advertising, social media and celebrities have a huge impact on teens' perception of body image. Who has the perfect body, and how do I get it?
Unfortunately, it can be the reason so many young girls have very unrealistic expectations about their own body image. And those whose appearances don't "stack up" are often victims of cruel peer teasing. That insecurity often leads to behavioral health issues, such as eating disorders.
How can parents make a difference?
"Believe it or not, parents need to remember that they have the most influence over their children," says Dr. Matthew Smiley, pediatrician and Medical Director of the Healthy Active Living Program at Advocate Children's Hospital. "What you model for your children is incredibly important."
Dr. Smiley also offers these five tips for promoting a positive body image for your child:
Take the time to compliment your child's strengths. Use phrases like "I'm proud of how you…" or "I like the way you…" or "I'm proud of how you always try your best." Focus on your child's efforts, talents, accomplishments and values rather than his or her appearance. Developing a positive body image starts early in life, so try to communicate in this way from a very young age.
When discussing nutrition and exercise, emphasize how they impact health, and avoid talking about the impact on weight and appearance. A healthy diet and regular physical activity is important for everyone's health, regardless of your weight status.
Use proper names to describe body parts and avoid using slang terms that can be offensive and demeaning. Encourage your child to do the same.
Encourage a healthy relationship with food. Parents should focus on maintaining a healthy food environment in the home and providing healthy meals and snacks, while allowing children to make their own decisions about whether to eat and how much to eat at meal and snack times. Teaching children at a young age to become familiar with their own hunger and satiety will help them develop a healthy relationship with food.
Be a good role model! Be aware of how you communicate your own perceptions and opinions about your own body and appearance as well as that of others.
Related Posts
Comments
About the Author
Evonne Woloshyn, health enews contributor, is director of public affairs at Advocate Children's Hospital. Evonne began her career as an anchor and reporter in broadcast news. Over the past 20 years, she has worked in health care marketing in both Ohio and Illinois. Evonne loves to travel, spend time with family and is an avid Pittsburgh Steelers fan!