Could the holidays be making your pandemic anxiety worse?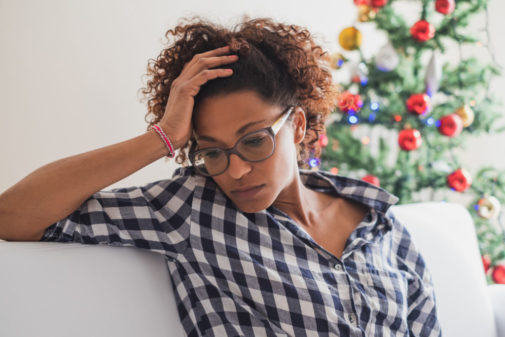 Under normal circumstances, the holiday blues are real. With a devastating pandemic in progress, more people are likely to struggle with the emotional pressures this season brings and the effects could be worse.
"More patients are having high rates of anxiety and panic related to the pandemic." says Dr. Deshon Moore, director of emergency medicine at Advocate South Suburban Hospital in Hazel Crest, Ill. "This anxiety can be a precursor to depression. It could also trigger a relapse for people with a pre-existing condition."
A Centers for Disease Control and Prevention report says that since April 2020, the number of Americans reporting symptoms of anxiety and depression, suicidal thoughts and substance abuse has been consistently higher, compared to 2019. Younger adults, racial/ethnic minorities, essential workers, and unpaid adult caregivers appear to be most susceptible.
"Between the emotional and financial strains of being furloughed or unemployed…and the stresses associated with remote learning for children… angst over political uncertainties…and the isolations of social distancing, especially among people who live alone – COVID-19 is giving many adults a lot to feel anxious about," Dr. Moore explains.
As a result, it could be more important than ever to connect with loved ones and spread holiday cheer to those we meet along your (socially distanced) way. Dr. Moore says it's a good idea to organize virtual gatherings and make impromptu video calls to ease feelings of loneliness and disconnectedness throughout the season. He also suggests watching out for the following red flags that may signal trouble:
Suicidal thoughts, which may be expressed during normal conversation. If you hear phrases like "I don't want to live anymore" or "I want to end it," have the patient call their primary care physician or visit the nearest Emergency Department.
Drastic sleeping or eating changes that persist for long periods of time. If your loved one hasn't slept or eaten in 3 or more days, this could be a sign of depression. Have the patient call their doctor.
Self-harming behaviors such as cutting, or substance abuse can be signs of distress. If you discover this, have the patient call their primary care physician.
Related Posts
Comments
About the Author
Cassie Richardson, health enews contributor, is regional coordinator on Advocate Aurora Health's Public Affairs team. She has more than 10 years of experience in health care communications, marketing, media and public relations. Cassie is a fan of musical theater and movies. When she's not spreading the word about health and wellness advancements, she enjoys writing fiction.