Why the CDC now recommends Pfizer and Moderna vaccines over Johnson & Johnson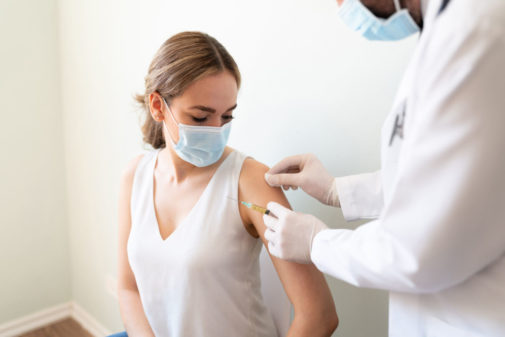 The Centers for Disease Control and Prevention (CDC) recently endorsed the Pfizer and Moderna mRNA vaccines over Johnson & Johnson's, following the release of new data showing a higher risk for a rare blood clotting disorder than previously known.
Out of about 16 million Americans who have received the J&J vaccine, there have been 54 cases and nine deaths associated with the condition called thrombosis with thrombocytopenia (TTS), a combination of a blood clot with a low platelet count.
Cases of TTS were reported in a range of individuals with the highest impact on women age 30 to 49, linked to one of out every 100,000 doses for that group. Individuals who received the J&J vaccine within the last three weeks should contact their health care provider if they're experiencing severe headache, abdominal pain, leg pain or shortness of breath.
Blood clots associated with J&J's vaccine are very rare, and studies have shown the risk of getting a blood clot from COVID-19 is far greater than from vaccination.
The CDC's Advisory on Immunization Practices reaffirmed that getting any vaccine is better than being unvaccinated but pointed to the abundant supply of Pfizer and Moderna mRNA vaccines when announcing its clinical preference for them. The Johnson & Johnson vaccine still remains an option to protect against COVID-19, but several countries and companies have stopped using the one-shot vaccine out of an abundance of caution.
Originally hailed as a one-dose option important for vaccinating hard-to-reach groups, J&J's lower efficacy relative to the mRNA vaccines and reported links to the rare blood clotting condition have made it a far less popular option. More than 114 million Americans have received the two-dose Pfizer series, and more than 73 million have received the two-dose Moderna series.
With COVID hospitalizations once again on the rise, top government officials warned on Sunday that the U.S. will probably see record numbers of cases and hospitalizations as the omicron variant spreads.
"The single most important mitigation is vaccination," said Dr. Robert Citronberg, Dr. Advocate Aurora Health's executive medical director of Infectious Disease and Prevention. "We've got to get people vaccinated who are not yet, and getting your booster should be a priority for those who have completed their initial series."
On Monday, Moderna released internal data that suggested a booster dose of its vaccine is "highly effective" against the fast-spreading Omicron variant. Pfizer and BioNTech published similar findings last week on its booster's efficacy against the variant.
Out of an abundance of caution, Advocate Aurora Health is pausing administration of the Johnson & Johnson (J&J) vaccine following the CDC's recommendation. To schedule your vaccine or booster, visit aah.org/vaccine.
Related Posts
Comments
About the Author
Adam Mesirow, health enews managing editor, is media relations director of Advocate Aurora Health. Securing high-profile media placements for more than a decade, he loves to tell a good story. Adam earned a Bachelor's degree in Public Policy from the University of Michigan. He lives in Chicago and enjoys playing sports, reading TIME magazine and a little nonsense now and then.