How do you keep kids healthy right now?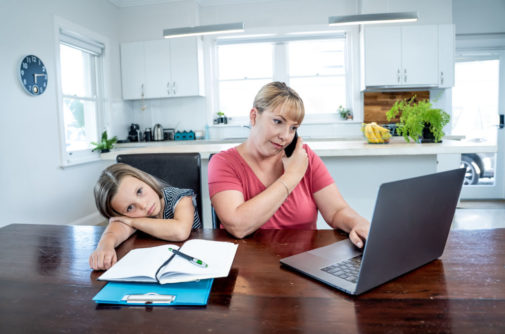 As the COVID19 pandemic continues, many parents find themselves wondering what they can do to keep their children safe.
Aside from wearing masks, social distancing and washing hands frequently, the team behind Advocate Children's Hospital Healthy Active Living program in Oak Lawn said keeping kids active, getting healthy amounts of sleep and maintaining a nutritious diet has never been more important for your kids' health.
Dr. Jeremy Daigle, Pediatric Physician, South Region Leader and lead physician of the Healthy Active Living Program, Behavioral Health Counselor Kathy Malyszko and Registered Dietitian Joci Schumann give a rundown of easy tactics families can implement to stay healthy during the upcoming winter months and annual viral season.
Physical activity
For staying active, Dr. Daigle has a number of recommended safe physical activities parents can do with their children to keep their bodies and minds active.
"We've all become creative at finding ways to do many other things in the time of this pandemic – and in the same way – parents have to also think outside the box when it comes to promoting physical activity for their children," Dr. Daigle said. "There should be a routine to include physical activity into the child's schedule – and make it fun."
Dr. Daigle suggests getting kids outside as much as possible. Exploring natural surroundings and using the experience as a learning tool is a great way to keep moving and interact as a family.
"Take your family – even infants and toddlers – outside for a walk," Dr. Daigle said. "You can include story time during your walk to make it interactive. Having a nature scavenger hunt or starting a nature collection are fun ways stay active outside. It's also good to have different activity options, as a bike ride, on some days so your child doesn't get bored."
For indoor physical activity, Dr. Daigle advises against simply encouraging children to use traditional workout equipment such as a treadmill or an elliptical as they may lose interest. Instead, he suggests giving your children control to choose what they find to be a fun indoor physical activity. This might include playing Wii or Xbox – or coming up with a family game including jumping rope, jumping jacks, lunges, sit ups and more. Dr. Daigle and his team have a wealth of activity ideas available here.
Sleep
Sleep is an essential component of health for children, Malyszko said, as those who don't get enough quality sleep are more likely to get sick after being exposed to a virus and will also affect how fast they recover.
"Your body needs sleep to fight infectious diseases," Malyszko said. "During sleep, the immune system releases proteins called cytokines, some of which help promote sleep. Certain cytokines need to increase when you have an infection or inflammation, or when you're under stress, and sleep deprivation may decrease production of these protective cytokines. Infection-fighting antibodies and cells are reduced during periods when you don't get enough sleep."
Malyszko said the while the optimal amount of sleep for most adults is seven to eight hours of good sleep each night, teenagers need nine to 10 hours of sleep and school-aged children may need 10 or more hours of sleep.
"A healthy sleep routine includes going to bed and waking up at the same time daily," Malyszko said. "Limiting screen time aids in a better quality of sleep, so removing all electronic devices from the bedroom is beneficial for optimal for promoting your child's healthy sleep."
Nutrition
It's important for parents to keep nutritious food options in the home for children, including fruits, vegetables, whole grains, and lean proteins, Schumann said.
When choosing meals, Schumann said to remember to make your child's plate to include 50% fruits and vegetables, 25% lean protein, and 25% grains. And when choosing snacks, try to avoid grains as they are the quickest to digest in the body and won't lead to your child feeling full and satisfied.
"Better snack options would include a protein source with a produce source," she said. "Examples would include a hardboiled egg and cucumbers, an apple with peanut butter, or string cheese and an orange."
She also suggests avoiding "treating" children with food and instead thinking of non-food rewards.
"I think it's very easy to get in the mindset that we should "treat" ourselves, but focusing instead on non-food ways to do that is more beneficial in the long-term," Schumann said. "It's best to avoid buying treats at the grocery store by making a list at home and sticking to it."
Learn more about how to help your kids stay healthy – including recipe ideas – with these resources.
Related Posts
Comments
About the Author
Bridget Kozlowski, health enews contributor, is a public affairs manager with Advocate Aurora Health. She holds a masters degree in Public Affairs and a bachelor's degree in journalism, both from the University of Missouri. Bridget previously worked as a reporter for the Chicago Tribune and has also lead local government communications teams for both the City of Sterling Heights, Michigan and the Village of Lombard, Ill. Bridget loves trying new restaurants, traveling and spending as much time as possible with her son, husband and rescue mutt.