When you should screen for prostate cancer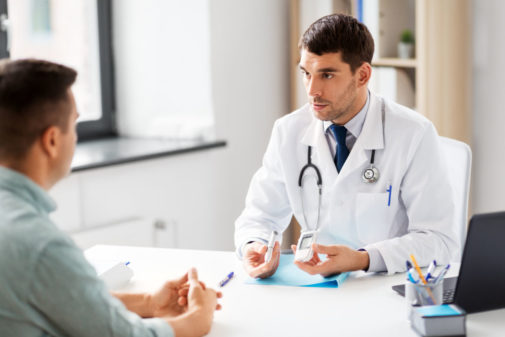 Staying on top of health screenings is important to try to catch conditions early. That is the case with prostate cancer, the most common cancer in men in the United States.
"Most men with prostate cancer have no symptoms and prostate cancer is detected with routine screening," said Dr. Bharat K. Shah, an internist at Advocate Medical Group at Irving and Western in Chicago.
Dr. Shah said early symptoms of prostate cancer may include:
Frequency of urination
Urgency of urination
Frequent nighttime urination
Dribbling or blood in the urine
"However, these symptoms are not specific to prostate cancer. The same symptoms can occur with other urologic conditions like an enlarged prostate or infection," Dr. Shah said.
Screening for prostate cancer is done using a blood test called a prostate specific antigen, or PSA, and digital rectal exam, according to Dr. Shah.
"There is some controversy about screening for prostate cancer because some believe that screening has the potential of overtreatment of early-stage cancer. However, since widespread use of screening, mortality from prostate cancer has gone down 70%. Therefore, screening is done after discussion with your primary care physician about your risk factors," Dr. Shah said.
The American Cancer Society recommends screening at age 50 for a man with average risk, at age 45 for African American men and men with one first degree relative diagnosed with prostate cancer at an age younger than 65, and at age 40 for a man with more than one first degree relative diagnosed with prostate cancer at younger than 65.
Screening is not recommended after age 70 or if a person's life expectancy is less than ten years, Dr. Shah said. Generally, screenings are done every two years.
When it comes to those PSA values, Shah said there is no set cut off point for a PSA value that can tell for sure if a man does or does not have prostate cancer. Doctors recommend further testing when PSA values are above 2.5 to 4.0.
"Elevated PSA does not always mean you have prostate cancer. It can be elevated in other conditions like enlarged prostate," said Dr. Shah.
The actual diagnosis of prostate cancer is made by ultrasound or MRI guided prostate biopsy.
Related Posts
Comments
About the Author
Brittany Lewis is a media relations coordinator at Advocate Health Care and Aurora Health Care. She previously worked as a reporter at TV stations around the Midwest, including Milwaukee. She studied at DePaul University where she majored in Journalism and Public Relations. Brittany enjoys traveling, hanging out by Lake Michigan, trying new restaurants and spending time with friends and family.