Take the 'slip' out of slippery this winter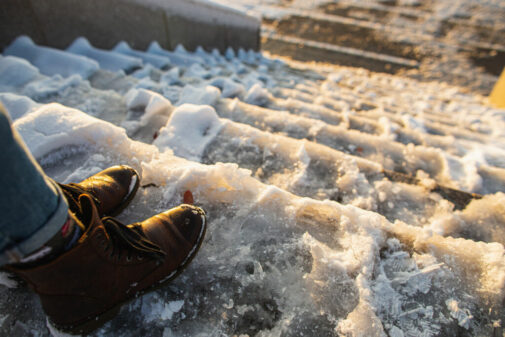 Injuries from slips, trips and falls caused by icy sidewalks and parking lots are common sights in emergency rooms.
After a trip to the emergency room, some patients have had to receive follow-up care from physical therapists like Shari Asher, a senior physical therapist in Outpatient Rehabilitation at Aurora BayCare Orthopedic and Sports Medicine Center in Green Bay.
"The numbers rise and fall as the weather changes. Winter weather is beautiful but can make travel to see family or get to appointments difficult." said Asher. "We see more cases just after a snowfall, as people relearn how to navigate sidewalks and parking lots. Cases go down as the snow is cleared or melts away."
While there's no way to avoid ice and snow during Wisconsin's winters, Asher says there are ways to reduce your risk of falling. She advises following these tips to stay moving but safe in winter weather:
Wear proper footwear — Proper footwear should allow the entire foot to touch the surface of the ground and have visible treads. Avoid a smooth sole and opt for a heavy treaded shoe with a flat bottom.
Plan ahead — While walking on snow or ice on sidewalks or in parking lots, walk cautiously. Instead of looking down, look up and see where your feet will move next to anticipate ice or an uneven surface. Occasionally scan from left to right to ensure you are not in the way of vehicles or other hazards.
Use your eyes and ears —While seeing the environment is important, you also want to be sure you can hear approaching traffic and other noises. Avoid listening to music or engaging in conversation that may prevent you from hearing oncoming traffic or snow removal equipment.
Anticipate ice — Be wary of thin sheets of ice that may appear as wet pavement (black ice). Often ice will appear in the morning, in shady spots or where the sun shines during the day and melted snow refreezes at night.
Walk stairs slowly — When walking down steps, be sure to grip handrails firmly and plant your feet securely on each step.
Be careful when you shift your weight — When stepping off a curb or getting into a car, be careful since shifting your weight may cause an imbalance and result in a fall.
Avoid taking shortcuts — Shortcuts are a good idea if you are in a hurry, but may be a bad idea if there is snow and ice on the ground. A shortcut path may be treacherous because it is likely to be located where snow and ice removal is not possible.
Look up — Be careful about what you walk under.  Injuries also can result from falling snow/ice as it blows, melts, or breaks away from awnings, or buildings.
Look for bare ground — Whenever possible, walk on ground that is bare, not ice- or snow-covered, even if you must take a roundabout route to get where you are going.  This is especially true as you park your vehicle in parking lots.
Pro tip: NEVER walk between cars to shorten your distance to the entrance doors. Parking spots are often snow packed and may contain black ice.
Step out carefully — Always exit your car carefully and head to the nearest main roadway and sidewalk to proceed to building entrances.
Asher also says there are ways to reduce the extent of injuries during a fall.
"If you fall, try to make contact with your thigh, hip and shoulder at the same time.  Avoid catching yourself with outstretched arms.  If falling backwards, try your best to avoid hitting your head on the ground if possible," she said.
It's important to seek care if you do experience a bad fall to properly heal and regain function, she said.
All of this can be summed up in two words: Be prepared. By thinking ahead and being prepared before you leave, you are more likely to have a safe route to your destination, she said.
Now is the perfect time to make an appointment with a primary care physician. Whether you live in Illinois or Wisconsin, it's easy to find a doctor near you. 
Related Posts
Comments
About the Author
Cearron Bagenda, health enews contributor, is a Public Affairs Coordinator with Advocate Aurora Health. She previously worked as a TV news reporter and fill-in anchor covering medical, political, feature and breaking news stories at CBS 58 in Milwaukee, WBAY-TV ABC in Green Bay and NBC Nebraska- Scottsbluff. Cearron enjoys spending time outside with her three dogs, biking, traveling and interior decorating.