What is a cholesterol healthy diet?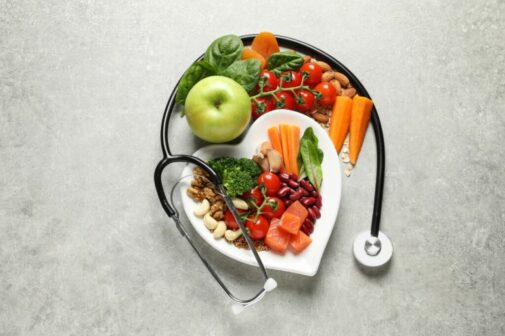 About 93 million Americans over 20 years old, close to 40% of the U.S. population, have high cholesterol. The CDC states that having high cholesterol raises the risk for heart disease, the leading cause of death, and for stroke, the fifth leading cause of death. But experts say there are ways to combat it.
"One of the major risk factors that we can control is what we put into our bodies," said Sheila Weis, a physician assistant specializing in cardiovascular disease. "Limit foods high in saturated fats like cheese, fatty meats and dairy desserts, choose foods low in saturated fats and trans fats like seafood, whole grains, vegetables, and eat foods high in unsaturated fats such as avocado, olive oil and nuts."
A diet high in saturated/trans fats, lack of physical activity and tobacco use can put you at risk. Other risk factors include include Type 2 diabetes, obesity and age.
The Heart Foundation recommends eating a wide variety of foods from the five food groups — fruits, vegetable, grains, protein and dairy — which not only helps maintain a healthy and interesting diet but provides essential nutrients for the body.
Cholesterol is a waxy, fat like substance made by your liver, and it is essential for good health. Your body needs it to perform many essential tasks such as making hormones and digesting fatty foods. However, your body makes all the cholesterol it needs so it is important to minimize the amount of cholesterol you eat in your diet.
Weis shares a list of simple food swaps that can make a big difference in your cholesterol levels:
Nuts instead of croutons
Popcorn instead of chips
Avocado oil over vegetable oil
Greek yogurt instead of sour cream
Ground turkey instead of ground beef
Quinoa flakes instead of other cereals
Hummus instead of fatty, creamy dips
Dark chocolate instead of milk chocolate
Canadian bacon instead of regular fatty bacon
English muffins instead of bagels, croissants or muffins
Vinegar and lemon juice instead of creamy salad dressings
"High cholesterol doesn't present with symptoms. You can't feel it, but it is something you should pay attention to so that you stay healthy," Weis said. "It is recommended you get your cholesterol checked every five years for people age 20 or older who are at low risk for cardiovascular disease, or more frequently than every five years for people who have increased risk factors. Talk to your doctor about getting tested and what you can do to keep your cholesterol numbers where they need to be."
Now is the perfect time to make an appointment with a primary care physician. Whether you live in Illinois or Wisconsin, it's easy to find a doctor near you. 
Related Posts
Comments
About the Author
Amy Werdin, health enews contributor, is a provider public affairs coordinator with Advocate Aurora Health. She has been with the organization for 19 years, starting out in marketing for Advanced Healthcare, then Aurora Health Care and now in her current role. She enjoys reading, movies and watching her two daughters dance and her son swim.