Eat healthy while hitting the fast food drive-thru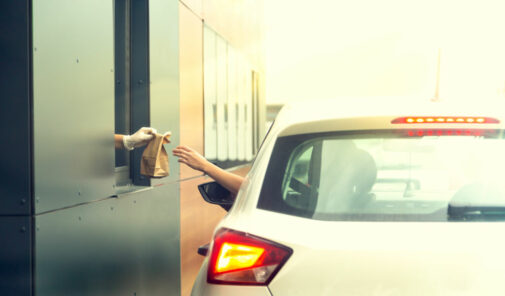 Whether you forgot to thaw the chicken or a work meeting ran late, some days it can be challenging to cook dinner at home. If fast food is your pinch hitter on those days, it doesn't necessarily mean you can't still enjoy a healthy meal.
"Of course, making your own meals at home gives you control to ensure you're eating healthy. But on those days when you need something quick for dinner, many fast food chains offer healthier choices," says Dr. Tony Hampton, a family physician at Advocate Medical Group in Chicago.
Navigating those healthy choices can be tricky, but a little research can help, such as checking out dietary information most fast food restaurants post on their websites. And if you didn't get a chance to review ahead of time, chain restaurants with more than 20 stores are required to post this information.
"A quick peek online or at the restaurant can help you budget a meal for your dietary needs whether you're watching calories or counting carbs," says Dr. Hampton.
One way to keep calories in check is to watch your portions. For example, if you're craving a burger, stick with a plain single hamburger or cheeseburger, or channel your inner child and order off the kids menu.
The next time you get fast food, here are some other healthier choices to consider:
Tacos offer a variety of protein options and can be a way to sneak in produce with toppings such as lettuce, tomato and avocado.
For comfort food on the go, nothing beats a cup of chicken noodle soup.
Grilled chicken nuggets can be a healthier alternative to breaded nuggets. They also pair well with salads.
Skip the fries and choose healthier side dishes such as salads, fruit or baked potato.
Another option is to skip the fast food lane altogether and stop somewhere else for a quick, healthier meal.
"If you're already taking the time to stop and grab dinner, head to the grocery store to pick up your favorite lettuce wrap or salad, which provide healthy nutrients like protein and fiber," says Dr. Hampton. "The time it takes to get good food may be quicker than you think."
Now is the perfect time to make an appointment with a primary care physician. Whether you live in Illinois or Wisconsin, it's easy to find a doctor near you. 
Related Posts
Comments
About the Author
Vicki Martinka Petersen, health enews contributor, is a digital copywriter on the content team at Advocate Aurora Health. A former newspaper reporter, she's worked in health care communications for the last decade. In her spare time, Vicki enjoys tackling her to be read pile, trying new recipes, meditating, and planning fun activities to do in the Chicago area with her husband and son.