Dream team of women specialists empower patient from the beginning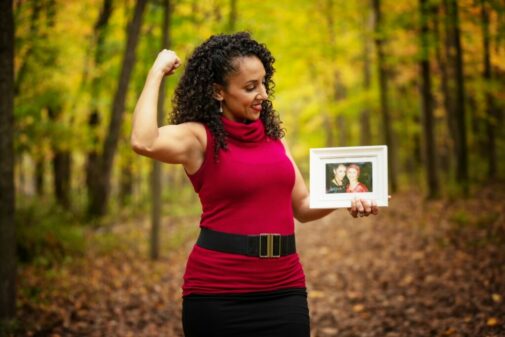 After losing her mother to ovarian cancer just days before her 27th birthday, Safia Fitzpatrick got tested for the BRCA 1 gene, which is linked to a significant increased risk of breast and ovarian cancers. She tested positive, spending the next 13 years in constant preventative screenings for breast cancer and ovarian cancer.
"It didn't feel like it was preventative, it felt more like it was just about early detection," said Fitzpatrick. "We decided that when I was 40, that was a hard deadline to take action."
She started doing research into double mastectomy and hysterectomy. Rather than waiting for an inevitable diagnosis, she wanted to take agency over her own body. She started meeting with doctors to pick out her "dream team" of surgeons and specialists.
"I had an entire team of women who understood my experience. There was no shame in asking all the hard questions. That was very empowering from the beginning," said Fitzpatrick.
Her team of women physicians from Aurora St. Luke's Medical Center included breast oncologist Dr. Nicole Zaremba, OB-GYN oncologist Dr. Brooke Schlappe and plastic surgeon Dr. Nyama Sillah. They walked her through each step of the process, carefully listening to her questions and helping her think through some aspects of the procedures she hadn't considered, like the possibility of losing some feeling in her chest.
Her decision to be proactive turned out to be the right call – a final analysis found that she was in the earliest stages of breast cancer when she had her mastectomy.
"When I finished with my final surgery, it was the biggest sense of relief," said Fitzpatrick. "It's almost crazy to think that I did all that and it's all over now."
Even when she was still scheduling her mastectomy and hysterectomy surgeries, Fitzpatrick wanted to know her options for breast reconstruction. She was hoping for a natural look that was similar to what her body looked like before, so she turned to Dr. Sillah for advice.
"For some women, reconstruction is about feeling emotionally whole again. Everyone makes a different decision. Whatever decision you make is the right decision for you," said Dr. Sillah.
The whirlwind of decisions with all these surgeries can be overwhelming, but Fitzpatrick took the time to ask the questions she needed to. Her team of women physicians helped her feel comfortable and heard throughout the process.
For Dr. Sillah, helping other women who are going through a challenging time empowers both her and her patients.
"As a woman, especially woman of color, it can be comforting to patients to have someone who they can relate to and who can relate to them," said Dr. Sillah. "When you're going through one of the harder times of your life, it helps to have someone you feel understands you."
Related Posts
Comments
About the Author
Ben Hoekstra is a public affairs coordinator with Advocate Aurora Health. He previously worked in marketing and PR for various Milwaukee nonprofits and received his master's degree in Corporate Communications from Marquette University. He enjoys the outdoors, cooking, and all things Milwaukee.