"Don't wait to be asked."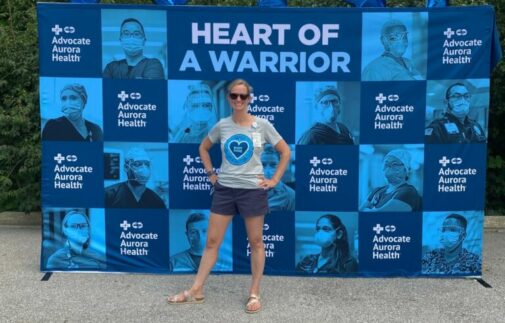 Megan Corrigan believes in seizing opportunities when it comes to career development – and that often means speaking up for yourself.
"You have to look for opportunities when they present themselves…and when you see something you want to do, voice your interest in it. Don't wait to be asked," said Corrigan, who not only serves as the director of pharmacy and director of emergency management at Advocate Good Samaritan Hospital in Downers Grove, IL, but also leads the hospital's Incident Command Team.
The dual role isn't a typical one. But Corrigan has a special interest, expertise and education in public health that goes along with her pharmacy background.
When the COVID-19 pandemic hit, Corrigan wanted to do more with her public health background while also serving in her pharmacy leadership role. At the same time, hospitals throughout Advocate Aurora Health started setting up Hospital Incident Command teams made up of a variety of leaders. The group meets regularly as needed to assess a variety of hospital needs, formulating plans and responses.
Corrigan earned her master's in public health several years ago while working as a pharmacy manager at Advocate Good Samaritan – while having two of her three children – and has a love for public health work. Although most incident command leaders aren't pharmacists, she inquired about the role.
"This is my thing. I love it. I want to be involved in any way I can," she told Jan Boonstra, then the director of nursing for the emergency department who was going to head up Advocate Good Samaritan's Incident Command team.
Boonstra suggested they lead the team together. "She was a great mentor. She took me under her wing," Corrigan said.
While Corrigan was nervous to take on the role outside of her normal work, she was excited and felt a need to get involved.
"You have to showcase your talents," she said. "That's true of any career."
While women tend to have a harder time touting their strengths, Corrigan said, "I've had other women show me and support me to do that for myself. And I try to model that for other women. You're in charge of your own destiny."
As the co-lead of the Incident Command team, Corrigan was instrumental in setting up and running Advocate Good Samaritan's vaccine clinic, which administered more than 60,000 shots – the highest of any hospital-based clinic at Advocate Aurora last summer.
"One of my most proud moments in my career is facilitating the vaccines," she said. "That's a huge win for public health."
Corrigan's role has since changed to the sole head of Incident Command after Boonstra took a new position at the hospital. Corrigan said she credits Boonstra for paving the way, along with her pharmacy colleagues for being able to continue to take on more leadership positions.
"That structure of support allows me to be successful," she said. "I have a really strong team."
Related Posts
Comments
About the Author
Kate Thayer, health enews contributor, is a public affairs coordinator with Advocate Health Care. She spent nearly two decades as a journalist, most recently as a reporter at the Chicago Tribune. Throughout her career, Kate has written about public health, politics, government, education and legal issues, along with human interest stories. She enjoys running, podcasts and her twin daughters.