Worried sick? Your heart might be.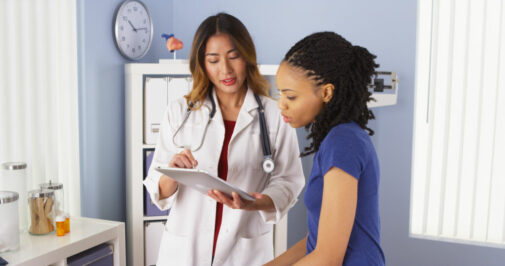 Levels of stress, anxiety, loneliness and worry are on the rise due to the pandemic, and it might impact your long-term heart health. According to new research, higher anxiety levels are associated with higher risk of cardiometabolic disease for people of all ages, and that risk increases with age. So, what can we do about it?
According to Dr. Vineet Dandekar, a cardiologist at Advocate Sherman Hospital, it starts with knowing a few basic indicators of heart health, particularly those that might suggest a risk for coronary artery disease (CAD). The most common type of heart disease, CAD is the leading cause of death in the United States and occurs when the arteries that supply blood to the heart harden and narrow.
"Start by age 30 but certainly before you turn 40 with at least one cholesterol profile," advises Dr. Dandekar. "and once you have your results, talk to your primary care doctor to understand your unique risk factors for heart disease." At the same time, Dr. Dandekar recommends talking to your doctor about your blood pressure and Body Mass Index (BMI), which can be used to indicate if you are overweight or obese.
Getting them checked at your doctor's office is critical because there often aren't any symptoms or signs associated with high blood pressure or high cholesterol. According to the Centers for Disease Control (CDC), blood pressure of more than 120 systolic and 80 diastolic or 120/80 mgHg is considered elevated. A total blood cholesterol of 200 milligrams/deciliter or more may increase your risk for cardiovascular disease based on CDC guidelines. Finally, BMI can be used to screen for weight categories that may lead to health problems, including cardiovascular disease, and a BMI over 25 may be cause for concern.
Once you have a baseline understanding of your blood pressure, cholesterol, and BMI, Dr. Dandekar suggests checking them again at least once a year. "As you get older, almost by definition your risk increases," he says. "If you're able to control these key factors – cholesterol, BMI and blood pressure – then you can reduce your risk of cardiac disease."
If your numbers are outside of recommended ranges at the first reading, often making simple changes to your exercise and eating habits can help reduce your risk factors for coronary heart disease. The most important thing is that you don't ignore elevated blood pressure, LDL cholesterol or BMI, even if it's only "a little high."
"Untreated high cholesterol and hypertension increase your risk of both heart attacks and strokes," explains Dr. Dandekar. "The last two years have brought into focus how sedentary we are, and levels of anxiety and depression don't help."
"Eat a balanced diet, reduce your salt intake and alcohol consumption, and get out there for moderate exercise for at least 30 minutes, five days a week," Dr. Dandekar advises. "All of these things will help with vascular tone, which decreases with age as you are exposed to high blood pressure and cholesterol, and ultimately can damage the vessel wall and cause vascular disease."
Want to learn more about your risk for heart disease? Take a free online quiz to learn more.
Related Posts
Comments
About the Author
Kristen Johnson, health enews contributor, is a public affairs and marketing manager with Advocate Health Care and Aurora Health Care. She previously worked as a speechwriter and staffer on Capitol Hill. She enjoys running marathons, good coffee and exploring Chicago's many neighborhoods.