4 tips to make packing kids' lunches healthy, easy and fun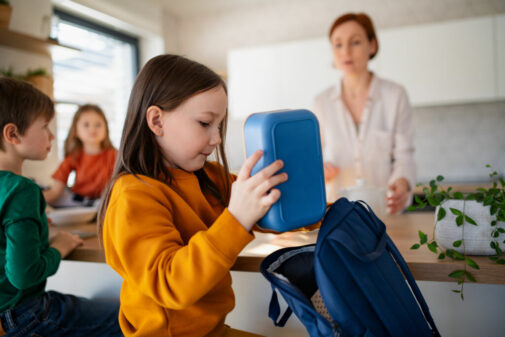 Packing school lunches rarely excites parents, who are often short on time and ideas for a healthy lunch their kids will actually eat. But before giving up and grabbing anything you can find, consider these tips on packing a healthy lunch box for your kids.
Food safety first
When it's time to prepare any meal, it is important to practice good hygiene by washing your hands, said Lisa Dempsey, a registered dietitian with Advocate Medical Group Bariatric Medicine in Downers Grove and at Lutheran General Hospital. It's also important to think about food temperature, she said.
"Make sure your kids' school lunch is kept safe by keeping it refrigerated," Dempsey said, suggesting parents invest in an insulated lunch bag with cooling inserts. Dempsey also recommends a bento box, which has compartments to keep food fresh. To keep hot foods warm, use a thermos, she said.
Incorporate food groups
Consider the five food groups when packing your kids' lunch, Dempsey said. Add a protein source, whole grains, dairy, vegetables and fruits. Adding these ingredients into your kids' diet will supply them with enough energy to keep them going throughout the day, she said.
"Ideally, it is important to strive to include most of these items," Dempsey said. Parents can also keep it fun by changing up the daily meal plans for their child to make it more enjoyable while still receiving enough nutrients.
Get your kids involved
Want your kids to finish their lunch? Get them to help pack it, Dempsey said. That also gives parents more perspective into their kids' food preferences and ultimately creates bonding time. Dempsey suggests assigning kids age-appropriate tasks like cutting up food (if old enough) or portioning out snacks.
Keep it simple
Mornings can be hectic, jam packed with making sure kids are out the door on time for school, and often working parents are on a schedule too, Dempsey said. This makes it hard for parents to find time to pack a healthy lunch.
Keeping it simple can be the key to packing lunch while saving time, she said. Parents should consider shopping for healthy pre-packaged products which require little effort. Dempsey suggests adding items like: String cheese, natural applesauce cups, low sugar yogurt cups and mandarin oranges packed in 100% juice.
Spending time the night before – or even over the weekend – to prepare meals can save time and avoid the morning rush, Demsey said.
"This also gives parents a chance to make sure they're packing the right foods and the nutrition is there," she said. "The more prepared parents are with meal prepping, the more likely their kids are receiving the right amounts of nutrients to keep them healthy."
Now is the perfect time to make an appointment with a primary care physician. Whether you live in Illinois or Wisconsin, it's easy to find a doctor near you. 
Related Posts
Comments
About the Author