'Life as I knew it was suddenly completely different'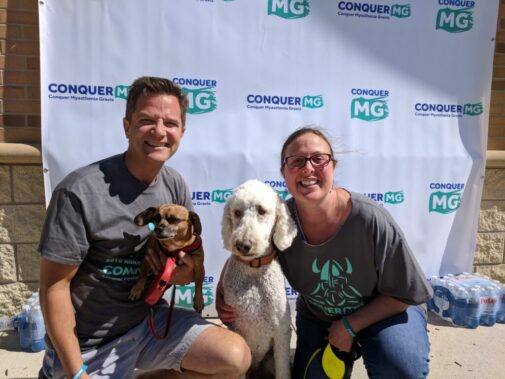 On a 90-minute drive to her boyfriend's house in 2015, Sara Hasemeyer was hit with the strange and sudden feeling that she couldn't keep her eyes open, almost as if she was falling asleep.
Frightened and struggling to focus on the road, she called her boyfriend – her now-husband, Matt – and asked him to stay on the phone until she arrived. "I think something's seriously wrong," she said.
Hasemeyer never needed glasses or had vision problems before, she said, but for the last several months, she noticed her regular routine making her unusually exhausted. A professional dancer with an active lifestyle, she suddenly found herself needing a nap after day-to-day activities, such as teaching a summer camp class or walking the dog.
Hasemeyer, who was 45 at the time, initially chalked it up to getting older. But after a series of doctor visits, tests and a trip to the emergency room, she was diagnosed with myasthenia gravis, an autoimmune disorder that causes muscle weakness due to a breakdown in communication between the muscles and nerves.
"Neuromuscular diseases like myasthenia gravis are very individualized in that there isn't a clear pattern among cases," said Dr. David Randall, a neurologist at Advocate Lutheran General Hospital. "How each patient presents symptoms, responds to treatments and is able to function can vary significantly."
Myasthenia gravis affects an estimated 20 in 100,000 people in the U.S., according to the Myasthenia Gravis Foundation of America. There is no known cure for the condition, which is not believed to be directly inherited or contagious.
For Hasemeyer, her diagnosis took dancing and her former workout regime completely off the table. Her energy level varies day to day. She goes through periods of being able to walk her dogs, only to wake up one morning too weak to eat breakfast. Getting dressed, tying her shoes, walking up a flight of stairs, driving short distances – simple tasks she previously took for granted now can cause extreme fatigue.
"In our daily life, I think we do an amazing job staying super happy," Hasemeyer said. "But it was a sad and tough realization: Life as I knew it was suddenly completely different."
Regular infusions and various medications – including prednisone, a corticosteroid – help to manage the condition, she said, though it took a while to find a treatment plan and physician that made the Hasemeyers feel comfortable. During their first appointment with Dr. Randall, they knew he was the perfect fit.
Having met with other doctors early after her diagnosis, Hasemeyer said she has never felt more reassured than when she's consulting with Dr. Randall. He and his team have been a strong support system, always willing to answer her questions and ease her concerns.
"Dr. Randall is an incredible doctor, but he's also an incredible human being, and he treats us like human beings. That's so important," Hasemeyer said. "His goal is always to give me a sense of normalcy and to help me live my best life."
At the onset of the COVID-19 pandemic in March 2020, Hasemeyer halted her infusion treatments out of an abundance of caution. Dr. Randall and his team checked in frequently with a phone call, video visit or a message through the LiveWell app.
When her condition worsened and she started having trouble breathing, Hasemeyer said, he advised her to go to the hospital, explaining that the repercussions of missing treatments were more serious than the risk of possibly being exposed to COVID-19.
"It's important to have someone advocating for us, especially during the pandemic," Matt Hasemeyer said. "Knowing that we have Dr. Randall's support makes all the difference. He and his team are invested."
With her resilience and positive spirit, Hasemeyer is an inspiration to Dr. Randall, as are many of his patients with complex neuromuscular conditions, he said. Throughout his more than 20-year career, medical advancements have aided his ability to better treat these patients, he said, but nothing can replace the importance of building relationships and providing individualized care.
"With many of these diseases being longstanding, it's rewarding to follow patients and their families over a long period of time and improve their function and quality of life," Dr. Randall said.
The large footprint of Advocate Aurora Health has contributed to the growth of the neuromuscular program, as doctors across the system work to identify and refer patients who might otherwise be missed, he said. The team is now expanding in size and scope in hopes of increasing access and extending its reach.
"I chose neurology because of the patients and the stories of how they continue pushing forward in spite of their challenges," Dr. Randall said. "I want to do my part to help them."
Now is the perfect time to make an appointment with a primary care physician. Whether you live in Illinois or Wisconsin, it's easy to find a doctor near you. 
Related Posts
Comments
About the Author
Lauren Rohr is a public affairs coordinator with Advocate Aurora Health. She studied journalism at the University of Illinois at Urbana-Champaign and spent the last several years working as a news reporter covering public health, local government, politics, education and all facets of life in the Chicago suburbs. In her free time, she enjoys reading, baking, staying active and cheering on her favorite sports teams, especially the Chicago Blackhawks and the Fighting Illini.