Heart problems could be linked to this sleep disorder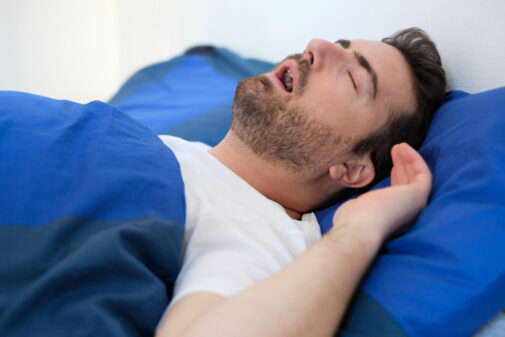 It's not unusual for Dr. Alan Brown to walk into a hospital room and observe one of his heart patients snoring and having apneic spells.
Sleep apnea is a common factor among patients admitted to the hospital for recurrent cardiovascular issues such as heart failure or atrial fibrillation, said Dr. Brown, director of the cardiology division at the Advocate Heart Institute at Advocate Lutheran General Hospital. But the disorder, marked by frequent breathing pauses or shallow breaths while sleeping, is severely underdiagnosed in that group, meaning many patients aren't receiving adequate treatment. The American Heart Association says that "when the air flow stops, the body releases stress hormones, which over time can lead to heart disease — the leading cause of death in the United States — stroke and high blood pressure."
"A delay in diagnosis means a higher rate of hospital readmission and increased cost of care," said Dr. Yelena Tumashova, sleep medical director at Advocate Aurora Health. "We needed a solution."
A program developed by Drs. Tumashova and Brown aims to bridge the gap between cardiology and sleep medicine, offering a more convenient and cost-effective process to test for sleep apnea.
Cardiac patients identified as high-risk are given a portable testing device, worn like a wristwatch, that can determine their diagnosis from the comfort of their home. Those who test positive for sleep apnea are then referred to the sleep clinic for treatment, which can vary in method and modality.
The results have been astounding, Dr. Tumashova said. Of the 1,899 patients tested so far, roughly 76% were diagnosed with sleep apnea, according to data as of Feb. 1. More than half of the positive cases were determined to be moderate to severe.
"There's a great unmet need out there," Dr. Brown said. "It dawned on us that this was a marriage made in heaven."
The partnership started more than three years ago when the two physicians shared an office at Lutheran General and frequently discussed how sleep apnea and cardiovascular disease are "intimately intertwined," Dr. Brown said. Yet they noticed an apprehension among cardiology patients to get tested, primarily due to the inconvenience of scheduling a consultation and an overnight sleep study.
The portable sleep test was a relatively inexpensive, user-friendly alternative screening for high-risk cardiology patients, limiting the need for the nuisance of a lab test, said Dr. Tumashova, who had been using the device for outpatient studies in cardiology clinics. Now, all Advocate cardiology offices in Illinois have at least two on hand, and program leaders hope to continue expanding.
Through the cardiovascular sleep program, a medical assistant conducts a screening process to determine whether the patient should be referred for the home sleep test. The cardiologist then explains the importance of the study and describes how their cardiac issues may be directly linked to sleep apnea, Dr. Brown said.
That conversation is often an educational experience for patients who are unaware of the severity of the sleep disorder and its potential impact on their hearts, he said. It's also likely why the program has a high compliance, with more than 80% of qualified patients choosing to participate.
The sleep clinic, in turn, has seen an influx of referrals, Dr. Tumashova said, causing her team to grow in personnel and expand throughout Illinois. The clinic now typically sees between 800 and 1,000 patients a month.
"It's been very satisfying to have one service line working really closely with another, benefiting each other and providing better care for patients," Dr. Brown said. "It's been a win on every level."
Want to learn more about your risk for heart disease? Take a free online quiz to learn more.
Related Posts
Comments
About the Author
Lauren Rohr is a public affairs coordinator with Advocate Aurora Health. She studied journalism at the University of Illinois at Urbana-Champaign and spent the last several years working as a news reporter covering public health, local government, politics, education and all facets of life in the Chicago suburbs. In her free time, she enjoys reading, baking, staying active and cheering on her favorite sports teams, especially the Chicago Blackhawks and the Fighting Illini.