This is how your garden can be good for your health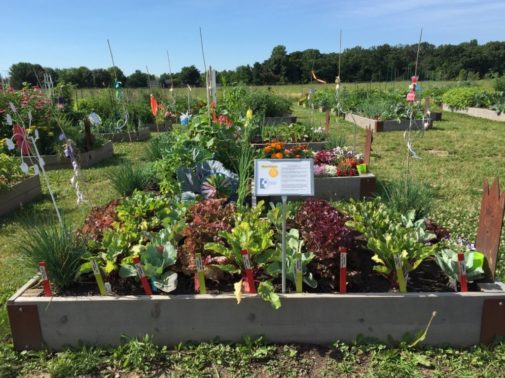 It's no secret to people with a green thumb that a garden can give you a place of refuge, promote health, and provide a source of food.
"There are a lot of studies that show how being outside and gardening promotes health. It provides relaxation, enhances mood, and puts our bodies in a state to better handle stresses," says Dr. Lori Walsh a pediatrician at Advocate Children's Medical Group in Glenview, IL.
"Our nervous systems are in a hyper state of overdrive, which, if not turned off, puts our bodies in a state of inflammation that contributes to diseases, such as diabetes and heart disease," Dr. Walsh says. "Gardening helps to take your mind off stresses and starts to focus us on what is happening in the moment, shifting us from overdrive to using your senses and being mindful."
While it's easy for first time gardeners to become overwhelmed, here are some tips from Dr. Walsh and Patsy Hirsch, a master gardener who helps run Advocate Sherman Hospital's community garden in Elgin, IL.
Beginner Gardening Tips:
"Soil, soil, and soil," Hirsch says. "It's the foundation of your garden." Proper soil helps provide the nutrients we and the plants need to grow strong. If you're planting in your yard's soil, you should test for nutrients, pH (most vegetables grow best in 6.5-6.8) , and pollution like lead. Raised beds offer more control. If using a raised bed, look for soil mixtures of 60% topsoil, 30% compost, 10 % soilless growing mix that contains peat moss, perlite and vermiculite.
Choose a good location: The location should be easy to water and meet your plant's sunlight preferences. Most vegetables and fruits prefer full sun, while herbs and greens (lettuce and spinach) are more shade tolerant.
Start small and with your interests: You don't have to grow all your own food in the first year. A large garden can be overwhelming. Dr. Walsh recommends starting small and with what your household is interested in. She provided an example of a school's pizza garden with basil and tomatoes, a great way to motivate kids.
Go to a garden center: While social distancing is still a must, you can learn a lot by going to your local gardening centers to see what they're selling and what's in season.
Join a community garden: If you don't have space to garden, you can consider joining a community garden and renting a plot. It's also a great way to learn if you're new. Parks, schools, and hospitals commonly have community gardens. Advocate Aurora has a community garden at Sherman hospital, pictured above.
Plant native: Native species are better for the environment, require less maintenance and can help to control flooding.
Lastly, if you're not able to grow your own food, Dr. Walsh recommends supporting your local farmers by purchasing from farmers markets or joining a farm share or community supported agriculture (CSA).
Here are a few extra resources to help you get started:
Related Posts
Comments
About the Author
Travis is the Sustainability Specialist for Advocate Aurora Health. He primarily works on managing sustainability data (waste, green purchasing, energy usage, etc.), system sustainability education, and on waste and energy reduction projects for the system.