How this cardiologist is addressing health disparities in the South Asian community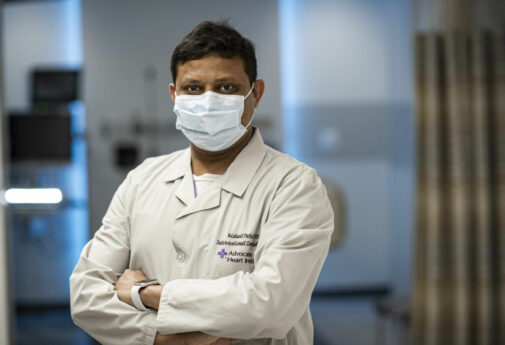 Family history, dietary habits, age and lifestyle choices are among the most common factors affecting a person's chances of developing high blood pressure, also called hypertension.
But studies show race and ethnicity can also play a role in an increased risk of cardiovascular disease among certain populations, including those of South Asian descent, said Dr. Nishant Patel, a cardiologist at Advocate Lutheran General Hospital in Park Ridge, Ill.
Mitigating the health disparities that exist in the prevalence and management of hypertension is a goal of the South Asian Cardiovascular Center at Advocate Lutheran General, he said. The first of its kind in the Midwest, the clinic aims to provide community outreach, education, prevention strategies, screenings and culturally sensitive care for a variety of health needs.
"Our priority is to increase awareness around the importance of taking care of your health," Dr. Patel said. "Aggressive lifestyle modifications related to diet and exercise can improve outcomes for future generations."
Compared to other ethnic groups, South Asian people in the United States have a disproportionately greater burden of atherosclerotic cardiovascular disease, in which plaque made up of fats, cholesterol and other substances builds up within the arteries, according to an August 2021 analysis published by the American College of Cardiology.
Common risk factors among the South Asian population range from genetics to lifestyle choices – hypertension, diabetes, high cholesterol, smoking – and are "superimposed on a milieu of unhealthy modifiable behaviors," the analysis says.
In most cases, improving eating patterns, exercising regularly and adopting heart-healthy habits can help to manage or prevent high blood pressure, Dr. Patel said. Doctors may also prescribe blood pressure medication depending on the severity of the condition. Patients should aim to keep their blood pressure below 120/80 mm Hg.
But a lack of awareness and access can serve as a roadblock, especially for underrepresented populations, Dr. Patel said.
The South Asian Cardiovascular Center is working to make a difference locally.  The program offers educational materials, screenings, healthy cooking tips and videos to promote health literacy across Chicago's Western suburbs, Dr. Patel said.
He hopes the center will eventually expand its footprint, ramp up resources and reach Black, Hispanic and other populations in need of specialized, culturally competent care.
The American Heart Association estimates nearly half of all Americans have hypertension, but many are unaware they have the condition because obvious symptoms are usually nonexistent. Having your blood pressure tested is the best way to know where you stand and what preventative measures or treatment are needed.
"Visits with a primary care physician are the most important method for determining whether your blood pressure is high," Dr. Patel said. "The diagnosis can ensure you receive appropriate care and lower your risk of complications down the road."
Related Posts
Comments
About the Author
Lauren Rohr is a public affairs coordinator with Advocate Health Care and Aurora Health Care. She studied journalism at the University of Illinois at Urbana-Champaign and spent the last several years working as a news reporter covering public health, local government, politics, education and all facets of life in the Chicago suburbs. In her free time, she enjoys reading, baking, staying active and cheering on her favorite sports teams, especially the Chicago Blackhawks and the Fighting Illini.