Understanding the pandemic's effects on your child's mental health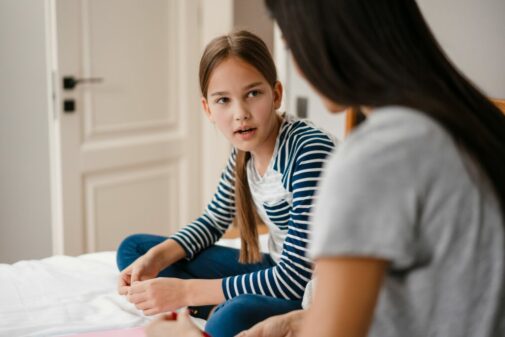 In two years, COVID-19 completely upended our way of life. As a society, we've been through so much in a short time: masking, isolation, disruption of routines, deaths, new health protocols and much more. Adapting to these challenges – and to the uncertainty presented by the emergence of new variants – has caused grief, stress and loneliness in each of us.
In fact, these mental health challenges are so pervasive that the medical community has taken to calling them the "Fourth Wave" of the pandemic. This "wave" wasn't spurred by one of the virus variants, but rather is the result of the pandemic's impacts on society and is defined as the "psychic trauma, mental illness, economic injury and burnout" caused by COVID-19. The Fourth Wave has resulted in higher rates of anxiety and depression in adults.
Unfortunately, the Fourth Wave is impacting our children, too. Last fall, pediatricians and children's hospitals declared a national state of emergency in child and adolescent mental health. At Advocate Children's Hospital, nearly 20% of our admissions in 2021 were behavioral health in nature – with diagnosis admissions such as suicidal, aggression, bipolar, eating disorders, anxiety, depression, and more.
Bearing the weight of your child's mental health struggles can feel crushing, but your child's pediatrician is available to support your family with clinical expertise and resources. As a starting point, here are several steps to take if you're concerned about your child or teen.
First, understand that you are not alone. Your worry, fear and concern are all normal and valid. It's important to not blame yourself as the parent, but instead view this Fourth Wave as something all children face in some way.
Second, be watchful for changes in your child's behavior or mental status. These changes can be subtle and can manifest differently across different age groups, so trust your instincts. As a parent, you know your child best.
For infants, toddlers and young children, the American Academy of Pediatrics (AAP) suggests you might see backward progress in skills and developmental milestones. Parents should look for:
fussiness and irritability, startling and crying more easily, and being more difficult to console
trouble falling asleep and waking up more during the night
feeding issues such as nausea and vomiting, constipation or loose stools, or new complaints of stomach pain
anxiety when separating from family, clinginess, not wanting to socialize and fear of going outside
hitting, frustration, biting, and more frequent or intense tantrums
bedwetting when fully potty trained
aggressive behavior
In older children and adolescents, the AAP says we should look for:
changes in mood, such as ongoing irritability, feelings of hopelessness or rage, and frequent conflicts with friends and family
changes in behavior, such as stepping back from personal relationships
a loss of interest in activities previously enjoyed
a hard time falling or staying asleep, or starting to sleep all the time
changes in appetite, weight or eating patterns, such as never being hungry or eating all the time
problems with memory, thinking or concentration
less interest in schoolwork and decline in academic effort
changes in appearance, such as lack of basic personal hygiene
an increase in risky or reckless behaviors, such as using drugs or alcohol
thoughts about death or suicide, or talking about it
If you recognize these signs, talk to your child. Ask questions about how they are feeling. Demonstrating that you are aware of their feelings and offering support can go a long way in validating their emotions. Feelings of sadness, anxiety and hopelessness can be normal, but if they appear prolonged or overwhelming for your child, it's a good idea to take further action.
Next, schedule an appointment with your child's pediatrician. The physician will screen for depression and look for other concerns such as anxiety or problems coping with stress. During an appointment, it's important to allow older children and teenagers one-on-one time with the pediatrician so they can speak as openly about their feelings as possible. Depending on the visit's outcome, the physician may refer your child for additional screenings and more intensive support.
We know that recognizing your child's mental health needs can be complicated. Above all, please know that you can always reach out to your child's pediatrician – and that you're not alone in supporting your child through this challenging time.
Dr. Frank Belmonte is Chief Medical Officer of Advocate Children's Hospital.
Are you trying to find a doctor? Look here if you live in Illinois. Look here if you live in Wisconsin. 
Related Posts
Comments
About the Author
Dr. Frank Belmonte is a pediatrician and the Chief Medical Officer of Advocate Children's Hospital.