Stroke is a serious complication of this rare brain disorder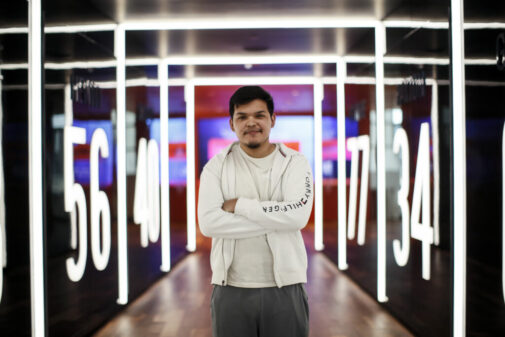 Javier Bolanos awoke suddenly one night feeling sick and very confused.
He couldn't reach for his phone. He couldn't get out of bed. When his mom and girlfriend found him and called an ambulance, he was unable to answer their questions.
At Advocate Condell Medical Center in Libertyville, Ill., physicians determined 21-year-old Bolanos was suffering a hemorrhagic stroke. The brain bleed was caused by an arteriovenous malformation (AVM), an abnormal tangle of blood vessels that weakened to the point of rupture.
Most brain AVMs are congenital and can present problems at any time in a person's life, including headaches, seizures, muscle weakness, a decline in cognitive performance, or other neurological symptoms of varying severity, said Dr. Demetrius Lopes, co-director of the Comprehensive Stroke Program at Advocate Aurora Health.
In Bolanos' case, symptoms were nonexistent until the AVM rupture, the most serious and potentially damaging complication. "It all kind of hit me by surprise," he said.
Bolanos was airlifted to Advocate Lutheran General Hospital in Park Ridge, Ill., where his care team quickly evaluated treatment options. Because his AVM was located deep in the brain, it would have been too risky to reach in an open surgery, Dr. Lopes said. The urgency of the hemorrhage also ruled out radiosurgery, a type of radiation therapy that shrinks and closes off the abnormal blood vessels over time.
Instead, Bolanos underwent an endovascular embolization, a procedure in which surgeons inserted a catheter into the wrist artery and used the blood vessels as a natural pathway to access the malformation in the brain, Dr. Lopes said. The most dangerous part of his AVM was sealed off, eliminating the potential for another rupture.
"Our network of specialized stroke centers is able to provide this breadth of care for patients at any age," Dr. Lopes said. "We have an amazing team of experts across our system."
The road to recovery has been tough for Bolanos, who lost movement in the right side of his body after the stroke and spent a month in the intensive care unit at Advocate Lutheran General. Since being discharged in December 2021, he has spent countless hours in rehabilitation to regain mobility – and his hard work has been paying off.
"It's been a long and hard process, but I'm definitely seeing improvements," said Bolanos, who is now able to walk and move his arm again. "I just take everything day by day and hope for the best."
Physicians have been impressed by Bolanos' progress, Dr. Lopes said, not only concerning his increased mobility, but also his vibrant personality and positive outlook on the future. A Chicago Bears superfan, Bolanos recently received a "dream come true" experience touring the Halas Hall practice facility and meeting his favorite player, Roquan Smith.
"Javier's improvement in a short period of time has been tremendous," Dr. Lopes said. "To me, this young man's incredible recovery speaks a lot to his resilience, the care he received, and the support from his loved ones. It's a winning combination, there's no doubt about it."
AVM symptoms can occur randomly, and the condition often goes undiagnosed or is discovered incidentally, Dr. Lopes said. The National Institute of Neurological Disorders and Stroke estimates brain AVMs occur in less than 1% of the general population and account for approximately 2% of all hemorrhagic strokes each year.
When it comes to stroke care, timing is everything to prevent brain damage and other complications. If you suspect someone is having a stroke, remember the B.E. F.A.S.T. warning signs:
Balance: Is the person experiencing loss of coordination?
Eyes: Is the person having trouble seeing?
Face: Ask the person to smile. Does one side of their face droop?
Arms: Ask them to raise their arms. Does one drift downward?
Speech: Is their speech slurred or strange?
Terrible headache and Time to call 911: Does the person have a terrible pain that feels like "the worst headache ever?" If you observe any of these symptoms, call 911 immediately.
Want to learn more about your risk for stroke? Take a free online quiz here. 
Related Posts
Comments
About the Author
Lauren Rohr is a public affairs coordinator with Advocate Health Care and Aurora Health Care. She studied journalism at the University of Illinois at Urbana-Champaign and spent the last several years working as a news reporter covering public health, local government, politics, education and all facets of life in the Chicago suburbs. In her free time, she enjoys reading, baking, staying active and cheering on her favorite sports teams, especially the Chicago Blackhawks and the Fighting Illini.