Cancer free in time for Mother's Day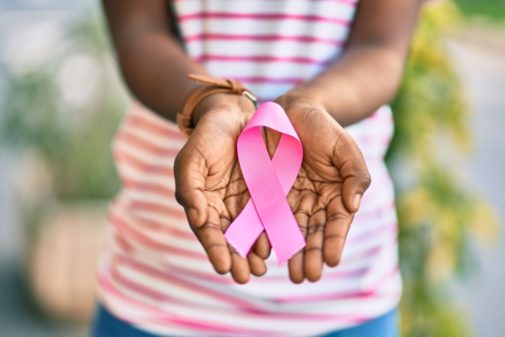 Erin Czarnota of Greendale, WI was going in for her regular mammogram six months after having her firstborn, Logan. She had just seen her primary care doctor and scheduled her mammogram for an upcoming Monday. What she thought would be a routine appointment turned her life upside down when the new mom received devastating news. She had locally advanced breast cancer, and it had spread to her lymph nodes.
"It was 1:05 p.m. on December 4 when I got the call," said Czarnota. "The first thing out of my mouth was 'I just had a baby.'"
Only two weeks earlier, her mom had been diagnosed with breast cancer, too. Czarnota was in shock. After years of waiting for her first child, she had been thrilled when Logan was born. This diagnosis felt like a vicious twist of fate.
The team at Aurora West Allis Medical Center jumped into action, helping her decide on the right treatment plan including chemotherapy to shrink the tumor and lymph nodes, followed by surgery and radiation. Less than a week later, Czarnota started her first round of chemotherapy. The quick turnaround, and having to socially distance during the pandemic, made for a challenging time for Czarnota and her family.
"I did have that moment where I didn't think I could go on, but I looked at my son and knew I had to do this," said Czarnota.
Logan was her inspiration. When she was tired from chemotherapy, she knew she had to keep going to be there for her son. Even when she was in pain, she made time to dance with her son. His smiles and laughter made all the difference.
For Dr. Nicole Zaremba, breast surgical oncologist at Aurora West Allis Medical Center, Czarnota's commitment to fighting breast cancer in order to be there for her son was especially meaningful. Dr. Zaremba was looking forward to welcoming a new child into her family soon, too — she was five months pregnant while operating on Czarnota. Dr. Zaremba and the team refused to give up on Czarnota. Their treatment plan was working.
"Erin's case is a reminder of how important it is to catch breast cancer early," said Dr. Zaremba. "Breast cancer is curable with early detection. That's why it's so important to get your regular screening mammogram."
After successful surgery and chemotherapy, Czarnota will celebrate this Mother's Day cancer free.
"Stay on top of your yearly mammograms and see your doctor every year. If they catch it, they can help you like they helped me," said Czarnota. "I'm excited to get back to the things I love to do, like walking and being outdoors and running with my son. I'm looking forward to having my life back."
Women should talk to their doctor about their risk factors and when to start screenings. All women should begin mammograms by age 45 and can talk to their doctor about when it's time to stop when they get older.
If you are due for routine mammography, you can schedule your mammogram online now with same day results, or contact your primary care doctor. If want to understand your risk of breast cancer, take a breast health quiz.
Related Posts
Comments
About the Author
Ben Hoekstra is a public affairs coordinator with Advocate Aurora Health. He previously worked in marketing and PR for various Milwaukee nonprofits and received his master's degree in Corporate Communications from Marquette University. He enjoys the outdoors, cooking, and all things Milwaukee.