Being allowed to be yourself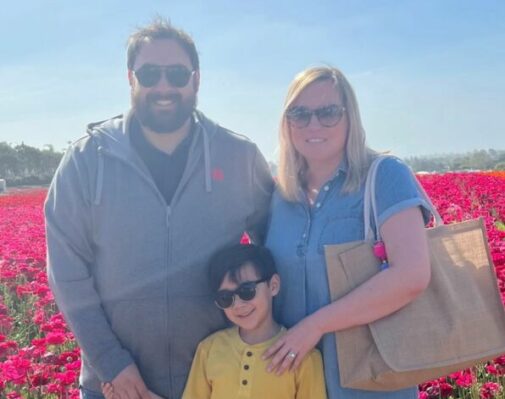 Ken Elledge explored all sorts of different careers early in his life. He considered becoming a mechanic, and attended school to become a firefighter and even a doctor. Throughout the time he was figuring out what he wanted to do, he could always count on one thing — the relentless support and encouragement of his mother.
No matter what job Elledge was focused on, his mother would always tell him that he could do anything he put his mind to. Her constant positivity and kindness toward others were just a few of the things Elledge inherited from his mother. As a patient care manager at Aurora West Allis Medical Center, he brings that positive attitude into every day at work and at home. If a ridiculously edited image from Photoshop can give his team a laugh, he'll dedicate time to swapping his team into training photos.
"If you can attach an emotion to it and get them laughing, it's more memorable," said Elledge.
Born to a Filipino mother from the island of Leyte and a Navy veteran from Fargo, North Dakota, Elledge has a unique perspective as someone from a multicultural background. His mother's endless optimism comes out in the way Elledge views his background and sharing his culture with others.
"There are people walking around who have backgrounds from multiple cultures. We all have a lot in common. I'm more Filipino than I am Irish, but you would never guess that from looking at me. Don't be afraid to celebrate aspects of both cultures," said Elledge. "I share my culture with people all the time. I often will make Filipino dishes and share them with my friends."
The traditions he inherited from his mother still make up a major part of his life. Every new year, the adults in the family scatter coins around the house to bring wealth and prosperity in the new year. The children run around picking them up. His mother's deep religious convictions remain important to Elledge as he tries to instill those same values in his family—he even carries a small token with footprints with him as a reminder that he is never alone, a practice inspired by the story "Footprints in the Sand" that reminds people they aren't alone in hard times.
Elledge's endless positivity and goofy side have helped him fit in well with his team at Aurora West Allis. He started with Aurora Health Care as a certified nursing assistant at 19 years old. While he spent a year at another health care system, he quickly returned to Aurora Health Care—he's always felt like his goofy side and creativity had a place.
"I always felt like I was allowed to be myself here. I could use my personality to help brighten someone's day," said Elledge. "At other places, I felt like I had to talk a certain way. Aurora does a great job of allowing you to be who you are and use your creativity."
Related Posts
Comments
About the Author
Ben Hoekstra is a public affairs coordinator with Advocate Health Care and Aurora Health Care. He previously worked in marketing and PR for various Milwaukee nonprofits and received his master's degree in Corporate Communications from Marquette University. He enjoys the outdoors, cooking, and all things Milwaukee.