What is monkeypox and who's at risk?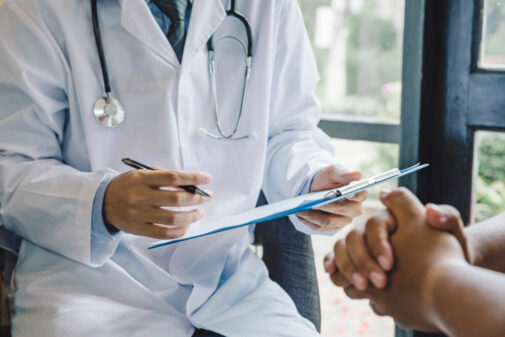 A Massachusetts resident tested positive for the monkeypox virus earlier this month, and several suspected cases are under investigation by the U.S. Centers for Disease Control & Prevention. Here's what you need to know about this little-known disease:
First identified in 1958 among captive monkeys kept for research, the first human case was discovered in 1970 in Central Africa, according to the CDC.
Closely related to smallpox, monkeypox has been endemic in parts of Central and West Africa for years, but it's starting to appear in other parts of the world, Dr. Robert Citronberg, Advocate Aurora Health's executive medical director of infectious disease and prevention, told ABC 7 Chicago.
The virus can be transmitted via respiratory droplets, prolonged close contact with an infected person or during sexual contact. It causes a range of uncomfortable symptoms, such as lesions on the skin, fever and swollen lymph nodes.
But experts don't anticipate widespread global or national outbreaks.
"The chances of having a large-scale epidemic are low because it's not as easily spread as viruses like COVID-19, chickenpox or measles," Citronberg said. "We'll certainly see more cases because it has a relatively long incubation period—up to the three weeks or so. But for the general public, unless you have close or direct contact with somebody who has it, the chance of your getting it is extremely low."
While monkeypox makes some people very sick, mortality rates are relatively low. Historically, the case fatality risk of monkeypox has ranged from 0 to 11 percent among the general population, according to the World Health Organization.
The Jynneos vaccine is approved by the U.S. Food & Drug Administration for use against smallpox and monkeypox in high-risk adults. ACAM2000, another smallpox vaccine, also could be used to prevent monkeypox; however, U.S. health officials warn that it has "significant" side effects.
Anyone who is concerned that they have symptoms of monkeypox or a potential exposure should contact their health care provider immediately.
Are you trying to find a doctor? Look here if you live in Illinois. Look here if you live in Wisconsin. 
Related Posts
Comments
About the Author
Stephanie Goldberg is a public affairs manager with Advocate Aurora Health. She previously worked as a reporter covering health care for Crain's Chicago Business. She enjoys hiking, baking and long walks on Chicago's Lakefront Trail.