Lack of sleep tied to dementia risk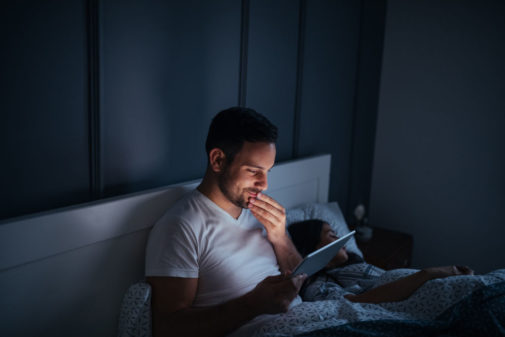 It might be very tempting to stay up late and binge just one more episode (or two…or three) of your latest television obsession, but research has presented evidence that a lack of sleep in middle age could lead to an increased dementia risk later in life.
The study published in the journal Nature Communications found that people in the 50 to 60 age range who got six hours of sleep or less were at higher risk for developing dementia than people who got seven hours. The study followed 8,000 people for 25 years. While the research doesn't necessarily prove that the lack of sleep causes dementia, it does suggest the ailment and sleep issues are tied together.
You already knew that sleep was good for you, but this latest study is just another reason to get a good night's rest. It's the opposite of a wake-up call – a call to go to bed.
Dr. Darren Gitelman, senior medical director of the Advocate Memory Center at Advocate Lutheran General Hospital in Park Ridge, says that "there is increasing evidence that a number of lifestyle factors may play a very important role in one's risk of developing dementia."
"Some of the factors include physical activity, education, diet, hearing loss, increased weight, depression, alcohol abuse, smoking, air pollution, social isolation and now sleep," Dr. Gitelman says. "Importantly these factors are likely to affect us over many years and may be most important at different times in our life. Education may be most important early in life, while hearing loss, hypertension and increased weight, among others, may be more important in mid-life. Still others, such as smoking, social isolation and depression may have a greater effect later in  life."
The Centers for Disease Control and Prevention recommend adults get seven or more hours of sleep per night.
"Sleep has long known to be important to our health, and abnormal patterns of sleep are commonly seen with aging and dementia," Dr. Gitelman says. "This study showed for the first time that beginning in mid-life, reduced sleep (defined as 6 hours or less) may be a risk factor for dementia decades later. This result was independent of other sociodemographic, behavioral, cardiometabolic, and mental health factors. This means that good sleep is important for everyone."
Getting a good night's sleep can be easier said than done. Here are tips the CDC gives on its website for getting good rest:
Be consistent. Go to bed at the same time each night and get up at the same time each morning, including on the weekends.
Make sure your bedroom is quiet, dark, relaxing, and at a comfortable temperature
Remove electronic devices, such as TVs, computers, and smart phones, from the bedroom
Avoid large meals, caffeine, and alcohol before bedtime
Get some exercise. Being physically active during the day can help you fall asleep more easily at night.
So, if binge watching TV is keeping you up late, maybe just start earlier.
Advocate is part of a national project studying the effects of lifestyle factors including exercise, diet, brain training, sleep, vascular disease and the microbiome on the risk of dementia though the US Pointer project. For more information about US Pointer call 847.720.6467 or email uspointer@aah.org.
Related Posts
Comments
About the Author
Mike Riopell, health enews contributor, is a media relations coordinator with Advocate Health Care and Aurora Health Care. He previously worked as a reporter and editor covering politics and government for the Chicago Tribune, Daily Herald and Bloomington Pantagraph, among others. He enjoys bicycles, home repair, flannel shirts and being outside.