'We're both acknowledged and affirmed as mothers'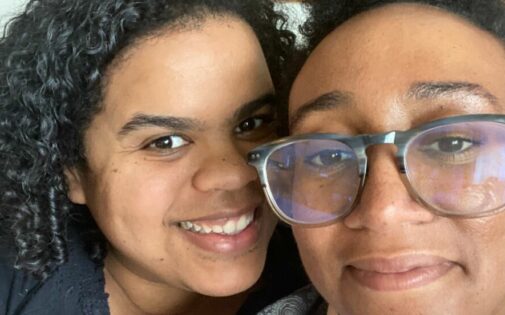 The day begins with your ordinary routine. Exercise, shower, breakfast. However, today is a little different. As one of your many parental duties, you're taking your child to the doctor for a wellness visit, and you're nervous. Besides the usual potential health worries, you also wonder if you and your family will be cared for with the same dignity and respect as anyone else.  
Fear of inequitable care was the unfortunate, reoccurring thought for Lex Cade-White and her wife. What should be a normal trip to the doctor can be concerning for those part of the LBGTQ+ community.  
"Often, LGBTQIA+ families are not acknowledged as both equally holding a parental role, being a couple, unit, or a family," says Lex. "But the reception by Advocate Aurora Health really helped us both feel safe, accepted and welcomed. When my wife and I come in with our child for an appointment, our marriage and family are given the respect and care we deserve without dismissal or confusion. We're both acknowledged and affirmed as mothers." 
The road to inclusive care and bridging the gap for LGBTQ+ members isn't without its challenges, and Lex is being part of the solution in her role as Health Equity Manager for Mission and Spiritual Care at Aurora Sinai Medical Center. 
"I work towards affirming and advocating for patient and family's needs to be known and empowering them to share with my fellow clinicians and care providers. I also teach current and future Diversity Equity & Inclusion invested professionals from around the country, stressing that health inequity cannot be dismissed in training, patient care, representation or health policy. I encourage everyone to research the work being done on health inequities regarding sexual and gender diversity. In my work, I hold myself and others accountable for fighting for these advancements and progression." 
Lex recognizes Advocate Aurora's promise to provide an atmosphere of acceptance with equitable care for all. "I see the work we're doing on the health equality index front. We're making pride acknowledgments, displays, education and revisions of languages, and that makes me excited to work for an institution that's committed to bridging those gaps." 
The visual representation and diversity of images in Advocate Aurora's advertising are great to see, says Lex. "As a team member, seeing it online, in commercials, and while I walk down the hallways shows me our institution is representing the full spectrum of people and their families, which is very affirming." 
As we celebrate Pride Month and throughout the year, Lex encourages everyone to reflect on the past, present, and future of those in this community and think about ways we can individually create a more inclusive society. She suggests care providers create a safe space where patients and families know they can bring their whole selves. Introduce yourself with your pronouns and recognize everyone in the room as someone important. 
"Celebrate the empowerment of the LGBTQ+ community and be proud of all we are from every corner, sector and space of our community," says Lex. "Acknowledge that gender and sexual diversity is healthy, normal and sacred." 
Looking for an LGBTQ+ friendly health care provider? Find one in Illinois or Wisconsin.
Related Posts
Comments
About the Author
Amber Thompson is a marketing graduate of the University of Wisconsin in Milwaukee. In her free time, Amber enjoys passion-filled projects including blogging and photography. Amber loves spending her free time reading journalistic columns, listening to motivational podcasts and discovering creative recipes to get her young son to eat his vegetables.