Returning to long-distance running after spine surgery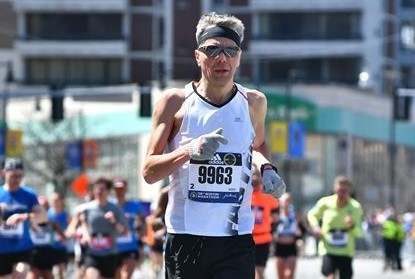 You might think distance running is a young person's game, but Koen Ruttens didn't start running until his early 40s and has completed more than 50 marathons. Now 55-years-old, Ruttens recently ran his sixth Boston Marathon, achieving a personal best time. This finish is especially meaningful because to get there, he had to overcome health challenges that threatened to sideline him and end his running career prematurely.
In 2018, Ruttens broke his personal marathon record three times. But everything changed when he was injured while out on a run.
Frustrated and unable to practice the sport he loves, Ruttens went to see Dr. Richard William Broderick, a neurosurgeon at Advocate Sherman Hospital in Elgin, Ill. to identify the source of his pain. Dr. Broderick diagnosed him with sciatica caused by a herniated disk and recommended physical therapy as a first step. When the therapy failed to help with Ruttens' pain, Dr. Broderick performed a successful surgery in April of 2019 to alleviate the sciatic nerve problems in Ruttens' leg.
"What I liked about Dr. Broderick is he was conservative in his approach; he did not want to jump into surgery right away, so we tried physical therapy first," shared Ruttens.
After the successful surgery, Ruttens completely recovered. But later that year, Ruttens returned to Dr. Broderick with weakness in his leg and foot. After evaluation, Dr. Broderick discovered a new problem – pressure in a pinched nerve at a different point in Ruttens' spine. To regain his strength, Ruttens needed an urgent procedure followed by six weeks of post-operative physical therapy.
"For patients that have high-performance goals like Mr. Ruttens, we talk about how after the completion of six weeks of post-op therapy, it requires another six to 12 weeks for him to get back to running three-hour marathons," Dr. Broderick explained. "It's a process that takes time and can take coaching for patients to understand this is not something that's a flip of a switch, it's an investment of time."
In August of 2020, following successful therapy, Ruttens got the green light to return to the running trails, paying special attention to Dr. Broderick's advice.
"I started with a quarter-mile run in August, and I signed up for the Chicago Marathon not knowing if I would be ready to run it," admitted Ruttens. "In six months, I worked my way up to 20-mile runs without any significant pain or impact, and I was back to how I was before the surgery."
Despite a long recovery from multiple spine surgeries, Ruttens ran the 2021 Chicago Marathon in three hours and 10 minutes. Then, he continued his training to clock his personal best time of 03:08:49 at the 2022 Boston Marathon.
"It's a very tough course and it's very special," reflected Ruttens. "I ran my best time in Boston of my six races there, and I was extremely happy with that."
This news didn't surprise Dr. Broderick, who was confident in his patient's dedication to recovery and running goals.
"He followed every instruction I gave him to the letter; he did not push things too hard," recalled Dr. Broderick. "At every post-op checkpoint, he and I discussed where he was at and what his goals were over the next six to 12 weeks and what we needed to do to get him to those goals."
Ruttens attributes his successful recovery to Dr. Broderick's partnership and personalized approach to his care.
"Dr. Broderick knew running was so important to me, and I wanted to do everything to get back to it," shared Ruttens. "I fully trusted him. He had a realistic, honest and incredible approach."
What's next for Ruttens? More of what he loves. This June, Ruttens travels to Italy for a 50K mountain race and in the fall, he'll once again run the Chicago Marathon.
"Running has become a major part of my life and fitness, I do it to stay in shape and mentally healthy as well."
Are you trying to find a doctor? Look here if you live in Illinois. Look here if you live in Wisconsin. 
Related Posts
Comments
About the Author
Elizabeth Blasko is a public affairs coordinator with Advocate Aurora Health. She studied public relations and nonprofit leadership at Western Michigan University. Prior to joining Advocate Aurora Health Elizabeth worked at Bernie's Book Bank, a nonprofit dedicated to increasing book ownership among underserved children. In her spare time, she enjoys reading, watching auto racing, spending time with family and keeping active with her rescue dog, Bristol.