Want to lose weight? The truth hurts.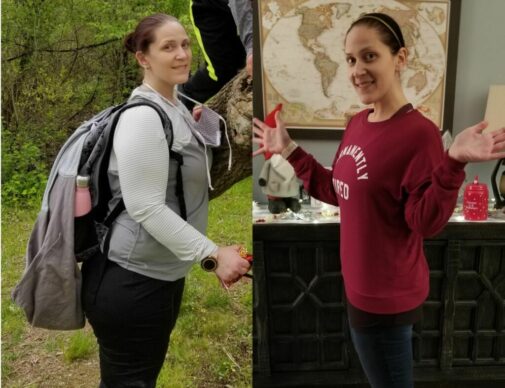 Long-term weight loss can be elusive, and even in the short term, many of us struggle to drop those extra pounds.
According to a new study, most of us aren't honest about how much we're eating each day, and that's a big part of the problem. How big of a problem? Most people eat an extra 900 calories – equivalent to three cheeseburgers – a day, regardless of their size.
So, the first step to losing weight is to be honest with yourself, and with your doctor.
"Some people avoid the doctor because they're afraid to see weight gain on the scale," explained Amy Paulus, a Nurse Practitioner who specializes in weight loss and bariatric surgery at Advocate Good Shepherd Hospital. "To generate sustainable weight loss, you need regular check-ins with someone who specializes in obesity treatment and can help you build an individualized plan. Accountability is key."
Bianca Hamm, a postpartum nurse at Advocate Good Shepherd, struggled to find a weight loss solution that worked for her and her busy schedule. After talking to the team at Good Shepherd, she chose the HMR diet – a medically supervised weight loss program that combines diet plans, health education and behavioral change to help people lose weight and keep it off for years to come.
"I knew I needed to lose the weight," Hamm said. "I was unhealthy and have two young kids to keep up with. I wanted something that was easy."
HMR focuses on complete nutrition, limits the decisions you must make around food and maximizes weight loss. While the length may vary, twelve weeks is typically recommended for participation in the weight loss phase. With the help of her health coach and nurse, and nearly a year after starting the program, Bianca is down more than 60 pounds, can go on bike rides with her kids and her BMI – body mass index – has gone from a 36, meaning obese, to a 25, within the healthy range.
"For me, logging everything you eat throughout the day is so daunting," explained Hamm. "With HMR, there's much, much less documenting day-to-day, and much less thinking on my part."  
In her practice, Paulus believes that medically supervised programs can make a big difference. While she sees people lose weight on crash diets, often they aren't sustainable. "HMR is turn-key," she emphasized. "There are no decisions." 
The program makes it easy to keep yourself honest, helping avoid the pounds that can accompany those three extra cheeseburgers in un-counted calories a day.
For Hamm, there's no going back. "I have a history of yo-yo dieting and weight loss, but I'm feeling very determined and motivated to keep the weight off," she said. 
Are you trying to watch your weight? Take a free online quiz to learn more about your healthy weight range here. 
Related Posts
Comments
About the Author
Kristen Johnson, health enews contributor, is a public affairs and marketing manager with Advocate Health Care and Aurora Health Care. She previously worked as a speechwriter and staffer on Capitol Hill. She enjoys running marathons, good coffee and exploring Chicago's many neighborhoods.