'I was in a fight for my life'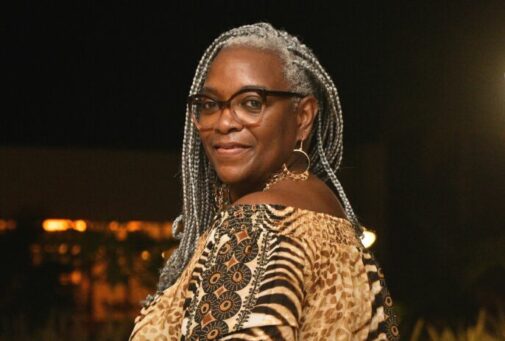 Twenty years ago, at 37 years old, I fought for my life against breast cancer.
I found a lump during a self-breast exam one night while watching a segment of the Oprah Winfrey Show about examining your breasts. I called my primary care physician's office to tell them about the lump, but the nurse I spoke with said I was too young to have breast cancer, my insurance likely wouldn't cover a mammogram and that the lump was probably caused by hormones.
She was wrong.
I quickly realized I needed to advocate for myself, so I went to my physician's office and demanded to be seen. He obliged and wrote an order for a mammogram with an immediate read to follow. I didn't stop there. I headed to my OBGYN's office to have the lump checked.
My suspicions were confirmed by the next day's mammogram results: breast cancer.
I had no roadmap. I'm the first in my family to have breast cancer. The internet of 2002 was nothing like it is today, so my understanding came from library books and printed information. My diagnosis was isolating. There were no young women support groups around at the time.
I felt scared. Uninformed. Pushed aside. Lost. I was devastated that I had to fight for my life, but I found courage I didn't even know I had and pushed forward.
I refused to let death be my only option and instead became the advocate I needed. And as time went on, I was able to advocate for others too.
I applied for the position of info/patient specialist at what was then known as the Cancer Center at Advocate Good Samaritan Hospital. The director remembered me from my radiation treatment. I was the first African American to be treated there. She worried the environment would traumatize me, but it was the opposite. I was on a mission I didn't know I was about to take on.
I spent 10 years in my role, helping to grow the center. At the time of my treatment, I had to travel to multiple places for treatment, which was tiring and time-consuming. Now, the Bhorade Cancer Center is a one-stop shop, keeping other women from having to fight for the care they need to survive. The center has a breast cancer specialist to help navigate treatment, financial counseling, radiation and chemotherapy and breast surgeons. I still go there for my follow-up appointments.
When they broke ground for the center, I was privileged to be invited by the then-CEO. He gave me a silver shovel keepsake and a photo of the two of us, which I cherish to this day in my office.
I've marched in Springfield and at the White House for women and cancer. In two decades, many great strides have been made in breast cancer care. The marches and rallies were not in vain. The fact that women are eligible for a mammogram and gynecological appointment through insurance yearly without additional costs is a great win. The Illinois Breast and Cervical Cancer Bill, which offers free mammograms, breast exams, pelvic exams and Pap tests to eligible women, is another exciting step in the right direction.
I wasn't a candidate for any of the aromatase inhibitor medications being given to women with breast cancer after treatment, so I entered into a clinical trial of Herceptin, which became a pivotal part of my survivorship. In 2005, the FDA approved the use of Herceptin. I danced alone in my Cancer Center office as if I had won the lottery. Now, Herceptin is being used in many other women with HER2-positive breast cancers, which grow and spread more quickly than HER2-negative cancers.
Treatment is now administered much differently than 20 years ago, which means more choices and more survivors. It's a good time to be alive.
This year marks my 20th year as a survivor and 17 years working at Advocate Good Samaritan Hospital. I'm proud of what I've achieved in that time.
If you're going through treatment, keep fighting for your survivorship. It's probably the hardest thing you'll ever do. I see you, and I support you.
And to my fellow survivors, keep your appointments. Listen to your body. Get up every day. Eat to live. Journal your good and bad days. Reach out to others who have been where you're trying to go.
No one fights this alone.
Want to learn more about your risk for breast cancer? Take a free online quiz here. 
Related Posts
Comments
About the Author