Serving those in need is just the beginning for this nurse practitioner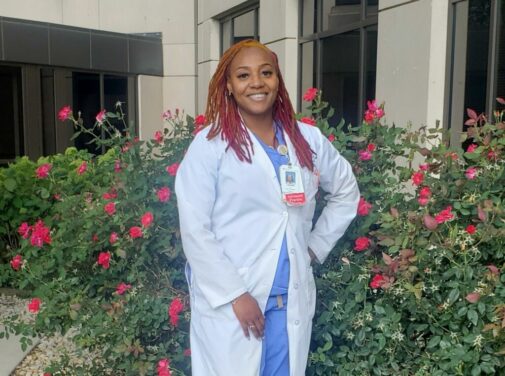 An emotional encounter with a pediatric patient when she was a certified nursing assistant in high school took LaTeisha Fort on her path to becoming a nurse practitioner in neurosurgery at Advocate Lutheran General Hospital and Advocate Good Samaritan Hospital.
"I had a one-year-old patient when I was a CNA that I got very attached to and subsequently followed throughout her health care journey. She had many surgeries over a period of a few years and unfortunately passed away after her last surgery," says Fort. "I remember wishing I could have done more. I knew at that moment I needed to have my hands in health care and felt inclined to do as much as I possibly could to change lives."
Fort supports her colleagues and cares for her patients with compassion and empathy. Something she carries over into her personal life by focusing on community service and community outreach in the central Chicagoland area.
In February, Fort founded the non-profit organization House of Isaiah in honor of her late father who believed in connecting with people and finding ways to change their lives via small random acts of kindness. Feeling she wasn't doing enough for her community, she started House of Isaiah to support the underserved population and homeless community. They provide Midweek Meals of Motivation on Wednesdays and hygiene care kits twice a month. Better yet, many youth sports teams have volunteered to help Fort serve meals and socialize with the men, women and children on the streets. Going back week to week has made a great impact not only on the homeless, but on the youth involved. Showing the kids that these people once had jobs, children, and families, for example, has opened their eyes to appreciate what they have and be cognizant of their behaviors and daily lifestyles.
Fort doesn't plan to stop there. "I purchased a used mobile home with a vision to turn it into a care mobile unit to provide basic healthcare screenings and preventive care for the homeless and underserved populations. Access to health care for these communities is imperative and a huge win for all." Fort's goal is to have her mobile care unit up and running by March of 2023.
Explore open Advanced Practice Clinician positions at Advocate Aurora Health.
Related Posts
Comments
About the Author
Amy Werdin, health enews contributor, is a provider public affairs coordinator with Advocate Aurora Health. She has been with the organization for 19 years, starting out in marketing for Advanced Healthcare, then Aurora Health Care and now in her current role. She enjoys reading, movies and watching her two daughters dance and her son swim.